Updated guidelines for cardiac screening in young patients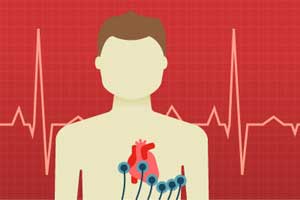 The British Society of Echocardiography (BSE) and Cardiac Risk in the Young (CRY) has issued an updated version of 2013 guideline on the role of echocardiography in the cardiac screening of sports participants. The recent developments in the understanding of the athlete's heart and the application of echocardiography have prompted this 2018 update.
The guidelines are published in the journal Echo Research and Practice.
David Oxborough, Research Institute for Sport and Exercise Sciences, Liverpool John Moores University, Liverpool, UK, and colleagues drafted the guidelines.
Sudden cardiac death (SCD) in an athlete is a rare but tragic event. In view of this, pre-participation cardiac screening is mandatory across many sporting disciplines to identify those athletes at risk.
Key Recommendations:


Following a detailed questionnaire (including any symptoms or family history) and brief examination, the 12-lead electrocardiogram (ECG) should be the primary investigation.


In the case of an ECG-only screening, routine transthoracic echocardiogram (TTE) is recommended as a second-line investigation in those athletes with an abnormal ECG, cardiovascular symptoms, abnormal physical examination findings or a family history of sudden death under the age of 40 years.


It is important to use the BSE normative values based on sex and age but take account of the type of sporting activity performed. All echocardiographers involved in cardiac screening of athletes should understand the physiological adaptation in cardiac structure and function to regular exercise, which can be variable depending on the type and volume of exercise training.


When screening patients for inherited cardiac disease due to a family history, the referring physician/echocardiographer should establish the patient's level of physical activity.


The aim of the TTE is to differentiate physiological adaptation from pathological abnormality where possible. Therefore, it is important that the echocardiographer understands the main pathological conditions that may be found and must be aware of normal variation in response to exercise.


Cardiac chamber dimensions in female athletes rarely fall outside of the established normal range. If they do, further investigation is required. It is more common for male athletes to demonstrate a degree of eccentric remodeling of all cardiac chambers.


Highly trained junior athletes still develop cardiac remodeling in response to physiologic conditioning, but this is often at a lower magnitude than in senior athletes.


LV and RV cavity sizes are similar between African/Afro-Caribbean and white athletes; however, wall thicknesses and LA size are often larger in the African/Afro-Caribbean athlete. Any wall thickness measurement with a value greater than 13 mm in white male athletes (or greater than 11 mm in white female athletes) or greater than 15 mm in African/Afro-Caribbean male athletes (or 13 mm in African/Afro-Caribbean females) requires further investigation.


The type of ECG changes that are present on an athlete's ECG will further guide the focus of the examination. For example, T-wave inversion in leads V1–V3 is one of the hallmarks of ARVC and should lead to a more focused assessment of the right heart, whereas inferolateral T-wave inversion is more frequently present in HCM and should prompt a detailed LV assessment.


LV geometry should be determined using a combination of LV mass indexed to body surface area (left ventricular mass index; LVMI) and relative wall thickness (RWT). LVMI is calculated as per BSE guidelines, and RWT is calculated by summating septal and posterior wall thickness in diastole and dividing into the LV diastolic cavity dimension.


For more information click on the link:
10.1530/ERP-17-0075
Source : With inputs from Echo Research and Practice