Unusual case of patient who had thick milky white blood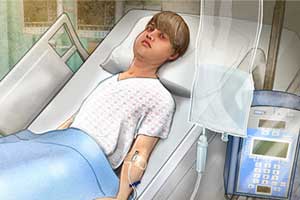 A man in Germany reportedly had a milky white blood due to extremely high blood levels of Triglycerides.Dr Philipp Koehler and his colleagues at University Hospital of Cologne, Cologne, Germany have reported an unusual case of severe hypertriglyceridemia, lack of insulin and ketoacidosis.The case has appeared in the journal Annals of Internal Medicine.
Due to extraordinarily high levels of triglycerides his blood was so thick with fat that his doctors needed to manually draw blood — a practice known as Plasmapheresis or bloodletting in order to help save his life. Plasmapheresis is necessary to treat some cases of severe hypertriglyceridemia.
According to history, a 39-year-old man came to the emergency department with nausea, vomiting, malaise, headache, and slowly deteriorating alertness.In the hospital, the man lost consciousness and needed a breathing tube inserted to help him breathe.
He had diabetes mellitus of an unknown type and a history of cholelithiasis and cholecystitis. He had been prescribed daily doses of sitagliptin, 100 mg; dapagliflozin, 10 mg; and pantoprazole, 40 mg, but he was taking these drugs intermittently. Two days earlier, he saw an outpatient physician for nausea, vomiting, unwanted weight loss, and headaches that had been increasing for several months. At that time, he had very high levels of triglycerides (203.4 mmol/L [18 000 mg/dL]) and cholesterol (37.01 mmol/L [1429 mg/dL]), as well as elevated hemoglobin A1c (13.9%).
Tests revealed that the man had extraordinarily high levels of triglycerides more than 14,000 mg/dL.Triglyceride levels below 150 milligrams per deciliter (mg/dL) are considered normal, according to the National Institutes of Health (NIH), and levels above 500 mg/dL are considered "very high."
Such high levels of triglycerides can lead to pancreatitis, a potentially serious condition. His tests showed that the man had elevated levels of pancreatic enzymes, which can be a sign of this condition.
The patient had also developed diabetic ketoacidosis — a potentially life-threatening complication of diabetes as he was not taking his medicines regularly.
The authors hypothesize that that man's extremely high blood triglyceride levels were caused by a combination of insulin resistance, obesity, inappropriate diet and insufficiently treated diabetes. They noted that the patient had a genetic marker that's associated with higher triglyceride levels, which may have also affected his risk.
For further reference log on to :
DOI:

10.7326/L18-0706