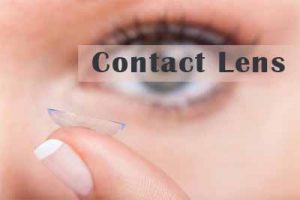 Dr. Sek Keung Kwok and colleagues have reported a case of blood-stained tears due to a contact lens, that has appeared in BMJ Case Reports.
The possible causes of bloody tears or haemolacria include trauma, vascular tumors of the ocular surface, lacrimal system disease, retrograde epistaxis, bleeding disorders, endometriosis, psychogenic causes and certain medications.
According to the history, an 11-year-old girl presented to the doctor with right upper lid swelling for 2 weeks. She also complained of associated mild inflammation. The attending doctors prescribed her topical antibiotics considering it to be a  case of chalazion. The problem did not respond to treatment and blood-stained tears were noted next morning (figure 1 left).
The patient was referred to an ophthalmologist as well as a radiologist for imaging. The patent was taken to a private radiologist before visiting the ophthalmologist. Her CT scan of orbital region demonstrated the presence of a 1×0.45×0.89 cm oval-shaped posterior eyelid lesion at the superomedial aspect of the right orbit (figure 1 right).
figure 1-  Courtesy BMJ Case Report
The radiologist reported a hypodense centre with fluid attenuation and a hyperdense rim and therefore an infective focus or epidermoid cyst was suspected. At the clinic of ophthalmologist's when the patient's upper lid was everted for examination—a rigid contact lens came out spontaneously (figure 2). Her mother remembered the loss of an orthokeratology lens 2 years back. The swelling and blood-stained tears resolved shortly after removal of the lens.
figure 2- Courtesy BMJ Case Report
The literature describes retained contact lens presenting as lid swelling in adults, and the mechanism of cyst formation has been described in the literature. The orthokeratology lens is usually prescribed to slow myopic progression in children. But at times this poses a challenge in making a diagnosis especially when children are not able to give a detailed history and when physical examination is difficult. In addition to this, imaging studies could be misleading if the history of a lost lens is not revealed.
Carry Home Message-
A retained contact lens can present as an eyelid mass or blood-stained tears.

Eversion of the eyelid must be performed in all cases with an eyelid mass regardless of any contact lens wear history.
For further reference log on to :
BMJ Case Reports 2016; doi:10.1136/bcr-2016-215025