Unusual case of Green Urine reported in Journal of PGI
Recently, a very unusual and intriguing case of a 36- year old man who upon ingesting methylene blue excreated green urine, was reported in the Journal of Postgraduate Medicine, Education and Research (JPMR) which is the official publication of the Post-graduate Institute of Medical Education & Research (PGIMER).
Methylene blue is a dye which is used by both biologists and chemists to see bacteria, which are otherwise not visible with the naked eye as they are colorless. Microbiologists often add a drop or two of methylene blue to bacteria on a glass slide before placing it under the microscope. The blue color that stains the bacteria helps biologists see their shapes. This synthetic basic dye stains negatively charged cell components like nucleic acids. Apart from laboratory application methylene blue is also used as a medication against cyanide poisoning which leads to methemoglobinemia.
In this case, the patient was a 36-year-old male, a shopkeeper by occupation, who had accidentally ingested the dye, a day prior to reporting at Gandhi Medical College and Hospital, situated at Secunderabad, Telangana. The authors who reported the case are from the same hospital and have stated that the patients had no history of fever, dysuria, surgical intervention, trauma, and abdomen pain. He was hemodynamically stable with the unremarkable systemic examination and had a urine output of 1.6 liters over 24 hours. His renal functions, liver functions, and complete blood picture were normal, and ultrasound sonography test (USG) abdomen was normal. Apart from the greenish appearance of his urine, his urine examination was also unremarkable.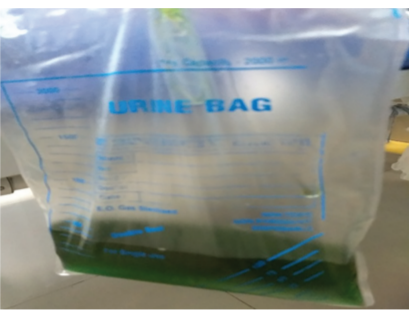 The patient was observed over the next 2 days and the greenish color of urine had disappeared. Therefore the authors assumed that the color change of urine was because of the dye and hence no further workup was done, and the patient was reassured about the benign nature of this condition.
The greenish color of urine can be an indicator of underlying pathologic and physiologic state such as familial benign hypercalcemia a rare genetic disorder. Sometimes few medications such as amitriptyline, indomethacin (Indocin, Tivorbex) and propofol (Diprivan) can cause the greenish-blue color of urine. Dye like methylene blue is a benign compound and is excreted by kidneys without causing any harm to the human body.
"Though different urine colors are a clue to underlying pathologic and physiologic state, many a times, it can be a truly benign picture. Methylene blue is one such example." concluded the authors of the case study.
For more details, please follow
Kishore K, Kapoor R, Singh A. Statistics Corner: Data Cleaning-I. J Postgrad Med Edu Res 2019; 53 (3):130-132. Available from:
https://www.jpmer.com/doi/pdf/10.5005/jp-journals-10028-1329