Untreated gout can lead to myocarditis: Case report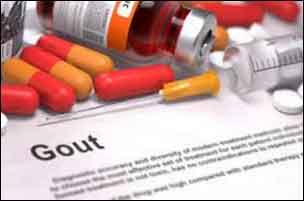 Gout, if untreated can lead to myocarditis -- an important cause of heart failure, suggests a case study published in the Annals of Internal Medicine. This occurs due to the accumulation of urate crystals in the myocardium.
Gout is a metabolic disorder characterized by increased uric acid in the blood and the deposition of amorphous urate crystals that cause a vigorous inflammatory reaction in the joints, kidneys, and soft tissues.
According to the case study, a 49-year-old man hospitalized because of dyspnea and edema of the lower limbs. He had a normal renal function but elevated levels of C-reactive protein, serum uric acid, troponin T, pro-B-type natriuretic peptide, and leukocyte counts on routine laboratory testing.
An echocardiogram revealed biventricular dilatation with a left ventricular ejection fraction (LVEF) of 30% and a right ventricular ejection fraction of 39%. It was found that the deposition of amorphous urate crystals in the man's cardiomyocytes caused a strong inflammatory reaction and cell death.
"We identified monosodium urate crystals by histology, electron microscopy, and negative birefringence on the exposure of a frozen myocardial sample to polarized light," Andrea Frustaci, Sapienza University in Rome, and colleagues reported in the journal.
"Many studies have found that hyperuricemia is associated with increased risk for coronary artery disease, heart failure, and sudden death. The mechanism for this association remains uncertain, and to the best of our knowledge myocardial damage from urate crystal deposition has not been reported," the group noted.
The patient had stopped taking the gout medications allopurinol and colchicine for several months before admission because of gastric discomfort and diarrhea.
"On the basis of our experience with the patient, we found that gout can cause myocarditis with cardiac dilatation, cardiac dysfunction, and heart failure, particularly in patients with tophaceous and untreated gout," concluded the authors.
They reported that they went on to treat the patient with 4 weeks of allopurinol and prednisone, after which his cardiovascular condition improved and LVEF rose to 45%.
Colchicine was recently shown to reduce the risk of ischemic events among heart attack survivors in the COLCOT trial.
The case report "Heart Failure From Gouty Myocarditis: A Case Report," is published in the journal Annals of Internal Medicine.
DOI: 10.7326/L19-0486
Source : Annals of Internal Medicine