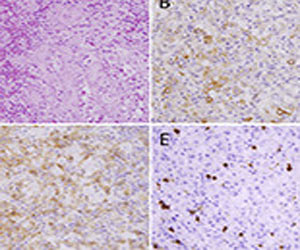 Tsuyoshi Ito at Department of Pediatrics, Toyohashi Municipal Hospital, Toyohashi, Aichi, Japan and colleagues have reported a unique case of NPC presenting with Lemierre syndrome-like symptoms, including prior sore throat, trismus, painful swollen neck, and high fever. The case has appeared in the American Journal of Case Reports.
Clinical presentation of nasopharyngeal carcinoma (NPC) is correlated with the extent of primary and nodal disease. Hence, depending on the anatomical structures affected, the clinical presentation varies accordingly, ranging from non-specific symptoms of epistaxis, unilateral nasal obstruction, and auditory complaints, to cranial nerve palsies. Nodal metastasis in the neck is a frequent clinical finding in nasopharyngeal carcinoma.
A female was admitted to the hospital because of fever and trismus with painful swelling in the right neck. Computed tomography (CT) revealed a mass in the nasopharynx with heterogeneous enhancement and multiple swollen lymph nodes in the corresponding neck. Initial biopsies of nasopharyngeal mass and lymph node of the neck revealed nonspecific lymphoid hyperplasia; we administered antibiotics with the provisional diagnosis of bacterial infection, including Lemierre syndrome that is typically defined by the constellation of septic internal jugular vein thrombophlebitis, pulmonary and other septic emboli, and sterile site bacterial infection. However, the patient was refractory to antibiotics over a month of treatments. The third biopsy of the throat lesion revealed NPC and bacterial cultures using the biopsy specimen were negative. She received intensity-modulated radiation therapy and chemotherapy for NPC stage II (TNM staging: T2N1M0). She never developed Lemierre syndrome-like symptoms after chemoradiotherapy.
................................ Advertisement ................................
Lemierre syndrome-like symptoms, including prior sore throat, trismus, painful swollen neck, and high fever don't usually appear n a case of nasopharyngeal carcinoma, NPC but as depicted in this case in patients with such presentation NPC should be considered as a differential diagnosis.
For Further reference log on to: DOI: 10.12659/AJCR.913755
Dr Kamal Kant Kohli-MBBS, DTCD- a chest specialist with more than 30 years of practice and a flair for writing clinical articles, Dr Kamal Kant Kohli joined Medical Dialogues as an Editor-in-Chief for the Speciality Medical Dialogues section. Besides writing articles, as an editor, he proofreads and verifies all the medical content published on Medical Dialogues including those coming from journals, studies,medical conferences,guidelines etc.
Before Joining Medical Dialogues, he has served at important positions in the medical industry in India including as the Hony. Secretary of the Delhi Medical Association as well as the chairman of Anti-Quackery Committee in Delhi and worked with other Medical Councils in India. Email: editorial@medicaldialogues.in. Contact no. 011-43720751
To know about our editorial team click here