................................ Advertisement ................................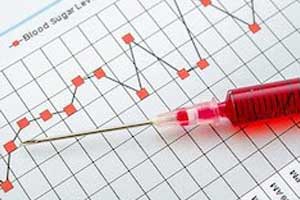 Underweight diabetes patients are at high risk for a severe fall in blood sugar levels finds a new study.
Low blood sugar or hypoglycemia is a major barrier to the effective treatment of type 2 diabetes (T2D), so it becomes imperative to determine the factors contributing to low blood sugar in order to aid in T2D treatment. A recent study has found an association between low body mass index (BMI) and greater risk of developing low blood sugar levels.
The study, published in the journal Diabetes & Metabolism, found that underweight T2D patients who are young and male with chronic comorbidities and using insulin appear to be at greater risk of severe hypoglycemia or severe fall in blood sugar levels. These patients should be warned about the risk of having a hypoglycaemic event and be properly informed about sudden  fall of levels of blood sugar levels to minimize the risk of fatal outcomes related to hypoglycemia.
................................ Advertisement ................................
In spite of many studies being performed to analyze the association between BMI and increased risk for mortality and various diseases, the controversy surrounding the impact effects of being either underweight or overweight on the risk of severe hypoglycemia is still unending. J.-S.Yun, The Catholic University of Korea, Suwon, Republic of Korea, and colleagues conducted the study to assess the association between BMI and the development of severe hypoglycemia in patients with T2D, using nationwide data for the entire South Korean population.
................................ Advertisement ................................
The researchers retrospectively analyzed the association from claims and National Health examination data registered between 2002 and 2015. A total of 1,366,692 subjects assigned clinical codes for T2D and prescribed anti-hypoglycemic agents were included. The primary outcome was an episode of severe hypoglycemia after the baseline health examination.
They found that:
A total of 37,682 subjects (2.7%) experienced a new severe hypoglycaemic event during the follow-up period (mean: 8.6 years).
An inverse J-shaped association was observed between BMI and severe hypoglycaemic events.
The association between low BMI and high risk of severe drop in blood sugar was similar in subjects who had never smoked, did not consume alcohol, did not use insulin and had no major comorbidities, after adjusting for multiple confounding variables.
This association was also found to be intensified in men, young people aged 30–49 years, those with major comorbidities and insulin users.
"BMI and severe hypoglycemia were found to be inversely associated. Thus, those who fall into the category of having low BMI and high risk of severe hypoglycemia should be warned about the risk of having a hypoglycaemic event and be properly informed about hypoglycemia to minimize the risk of fatal hypoglycemia-related outcomes," concluded the authors.
For detailed study follow the link: https://doi.org/10.1016/j.diabet.2018.03.006
Medha Baranwal joined Medical Dialogues as an Editor in 2018 for Speciality Medical Dialogues. She covers several medical specialties including Cardiac Sciences, Dentistry, Diabetes and Endo, Diagnostics, ENT, Gastroenterology, Neurosciences, and Radiology. She has completed her Bachelors in Biomedical Sciences from DU and then pursued Masters in Biotechnology from Amity University. She has a working experience of 5 years in the field of medical research writing, scientific writing, content writing, and content management. She can be contacted at medha@medicaldialogues.in. Contact no. 011-43720751
To know about our editorial team click here
................................ Advertisement ................................