................................ Advertisement ................................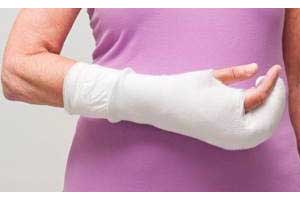 Basel, Switzerland: Type 1 diabetes (T1D) patients with poor blood sugar control are at higher risk of fragility fracture compared with T1D patients with good blood sugar control, according to a new study published in the Journal of Clinical Endocrinology & Metabolism. Fragility fracture is any fall from standing height or less that results in a broken bone.
Type 1 diabetes, diagnosed mostly in children and adolescents, is due to an insulin deficiency. Type 2 diabetes is the most common form of the disease and occurs when patients are resistant to insulin. People with T1D must take insulin every day, while those with type 2 can mostly be treated with diet, exercise, and oral diabetes medications.
Maintenance of good blood sugar levels is an important objective for diabetes patients. Clinicians typically measure a patient's glycemic control with the hemoglobin A1c test. The test both diagnoses diabetes and measures a patient's average blood sugar levels over a two- to three-month period. Patients run the risk of complications when blood sugar remains too high over time or falls too low.
................................ Advertisement ................................
Janina Vavanikunnel, Division of Endocrinology, Diabetes & Metabolism, University Hospital Basel, Basel, Switzerland, and colleagues conducted the study to investigate the association between the degree of glycemic control and fracture risk by using a large cohort of newly diagnosed type 1 and type 2 diabetes patients.
................................ Advertisement ................................
"Both types of diabetes are associated with fragility fractures and we showed that poor glycemic control is associated with an increased risk of fracture in type 1 diabetes," said Vavanikunnel.
For the study, the authors used Data from a U.K.-based primary care database to design a nested case-control study within a cohort of 3,329 patients with type 1 diabetes and 44,275 patients with type 2 diabetes.
Also Read: Canagliflozin use not linked to increased fracture risk in diabetes
Key Findings:
The risk of fracture was increased in T1D patients with mean HbA1c >8.0% compared to T1D patients with mean HbA1c values ≤7.0%. There was no such effect in T2D patients.
Independently of glycemic control, the risk of fracture was elevated in patients with T2D and current use of rosiglitazone and pioglitazone.
Also Read: Type 2 diabetes causes more fractures
This study is unique because it examined a much larger patient population than past research and examined a three-year average of A1c values. On average, nine A1c measurements for the patients with T1D and 11 measurements for patients with T2D were recorded.
"The impact of glycemic control on the risk of low-trauma fracture differs between T1D and T2D patients. Poor glycemic control increased the risk of fracture in T1D but not in T2D patients," wrote the authors.
For further reference log on to https://doi.org/10.1210/jc.2018-01879
Medha Baranwal joined Medical Dialogues as an Editor in 2018 for Speciality Medical Dialogues. She covers several medical specialties including Cardiac Sciences, Dentistry, Diabetes and Endo, Diagnostics, ENT, Gastroenterology, Neurosciences, and Radiology. She has completed her Bachelors in Biomedical Sciences from DU and then pursued Masters in Biotechnology from Amity University. She has a working experience of 5 years in the field of medical research writing, scientific writing, content writing, and content management. She can be contacted at medha@medicaldialogues.in. Contact no. 011-43720751
To know about our editorial team click here
................................ Advertisement ................................