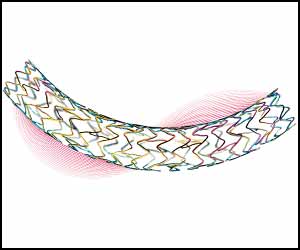 Implantation of ultrathin strut sirolimus-eluting stent that is examined in the three years BIO-RESORT trial may reduce the need for repeated revascularization in patients with small-vessel lesions revealed a study published in JAMA Cardiology.
In small coronary arteries, percutaneous coronary interventions (PCI) are associated with increased risk of adverse cardiovascular events. This leads to an increased need for revascularization owing to in-stent restenosis. The performance of ultrathin strut drug-eluting stents has been studied for the past few years where it was found to be effective in reducing the need for repeated revascularization in patients will small-vessel lesions.
The present study aimed at ascertaining the outcomes of all-comer patients with small coronary vessel lesions treated with 3 dissimilar types of drug-eluting stents.
................................ Advertisement ................................
The authors performed a pre-specified substudy comparing the Biodegradable Polymer and Durable Polymer Drug-eluting Stents (DES) in an All-Comers Population (BIO-RESORT) trial, an investigator-initiated, randomized, patient-blinded comparative clinical drug-eluting stent trial.
In the study, patients treated with ultrathin-strut sirolimus-eluting stents, very thin-strut everolimus-eluting stents or previous-generation thin-strut zotarolimus-eluting stents were enrolled from December 2012 to August 2015. This multicenter trial was conducted in 4 Dutch centers for cardiac intervention. Of all 3514 all-comer BIO-RESORT participants, 1506 patients with treatment in at least 1 small-vessel lesion (reference vessel <2.5 mm) were included. Data were analyzed between September 2018 and February 2019. The main outcomes and measures considered by the authors were target lesion failure at 3-year follow-up, a composite of cardiac death, target vessel–related myocardial infarction, or target lesion revascularization, analyzed by Kaplan-Meier methods.
................................ Advertisement ................................
Key findings of the study
Target lesion failure occurred in 36 of 525 patients treated with sirolimus-eluting stents, 46 of 496 with everolimus-eluting stents, and 48 of 485 with zotarolimus-eluting stents.
There was a difference in target lesion revascularizations between sirolimus-eluting and zotarolimus-eluting stents that emerged after the first year of follow-up
Multivariate analysis showed that sirolimus-eluting stent implantation was independently associated with a lower target lesion revascularization rate at 3-year follow-up
In the everolimus-eluting stents, the revascularization rate was 4.0%
There was no significant between-stent difference in cardiac death, target vessel myocardial infarction, or stent thrombosis.
Based on the findings the authors concluded that patients stented in small coronary vessels experienced fewer repeated revascularizations if treated with ultrathin-strut sirolimus-eluting stents vs the previous generation thin strut zotarolimus-eluting stents.
Prof. Clemens von Birgelen, Thoraxcentrum Twente, MST, Enschede, the Netherlands, presented the new subgroup data in a late-breaking clinical trials session at EuroPCR.
Deepanjana Sarkar joined Medical Dialogues as a Desk Editor in 2019 for Speciality Medical Dialogues. She has been working as a medical content writer from 2 years and has covered several medical specialties including Cardiac Sciences, Dentistry, Diabetes and Endo, Diagnostics, ENT, Gastroenterology, Oncology, and Radiology. She has completed her Master's in Technology (M.Tech) in biotechnology from Kalinga Institute of Industrial Technology, Bhubaneswar. She can be contacted at deepanjana@medicaldialogues.in. Contact no. 011-43720751