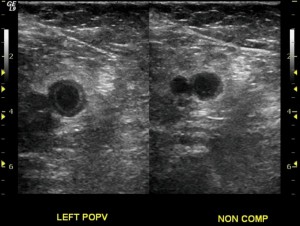 Consensus recommendations regarding Ultrasound protocols for DVT have been released by a multidisciplinary expert panel convened by the Society of Radiologists in Ultrasound.This was long awaited as present recommendations vary about optimal ultrasound protocols to rule out DVT. Consensus recommendations from the Society of Radiologists in Ultrasound on deep venous thrombosis (DVT) imaging include the following key points:
A single complete duplex ultrasound (CDUS) study is preferred over a limited or complete compression-only study for suspected acute DVT.
If CDUS is not immediately available, extended compression ultrasound (ECUS) is acceptable, followed by later CDUS.
Key details
DVT pretest probability (PTP) should be assessed for each patient.
A single CDUS is preferred.
Scan should include:

Compression at 2-cm intervals from inguinal ligament to ankle and including posterior tibial, peroneal veins.
Bilateral common femoral vein spectral Doppler waveforms to evaluate symmetry.
Popliteal spectral Doppler.
Color Doppler.

Repeat ultrasound after:

Limited protocol, 2-region, knee, inadequate, and equivocal ultrasounds.
Calf-limited DVT.
Negative CDUS with worsening or persistent symptoms.

If CDUS unavailable, perform point-of-care ECUS (thigh-to-knee compression), then perform CDUS within 5-7 days.
For suspected iliocaval DVT, consider pelvic ultrasound, CT, magnetic resonance venography.
Repeat ultrasound after the anticoagulation period to establish new baseline.
Describe material seen after DVT to resolve as "chronic postthrombotic change" term.
Describe abnormalities as "acute venous thrombosis," "chronic postthrombotic change," or "indeterminate (equivocal)."
The term "subacute thrombus" is usually best avoided.