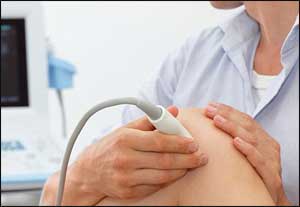 Ultrasound helps identify future threats of Deep Vein Thrombosis following ablation treatment in patients receiving radiofrequency ablation (RA) or laser ablation (LA) for superficial venous disease such as varicose veins, revealed a study published in the Annals of Vascular Surgery.
Deep vein thrombosis (DVT) occurs when a blood clot (thrombus) forms in one or more of the deep veins in your body, usually in your legs. Deep vein thrombosis can cause leg pain or swelling, but also can occur with no symptoms. Ablation is the accepted mode of treatment but the risk of future Deep Vein Thrombosis occurring again still remains.
The study demonstrated that patients who underwent  RA or LA and had a follow-up duplex ultrasound within 30 days of the ablation procedure had better outcomes of the ablation procedure and the incidence of DVT decreased over the study period. Also, in the study LA (2.8%) demonstrated a lower incidence of DVT at 30-days compared to RFA (3.4%).
The research attempted to describe the risk factors and incidence of DVT following radiofrequency ablation (RFA) and laser ablation (LA) in perspective of the controversial levels of thrombotic complications such as deep vein thrombosis (DVT) following venous ablation process for symptomatic superficial venous insufficiency.
The authors queried the Truven Health Marketscan Database from 2007-16 for patients who underwent RFA or LA and had a follow-up duplex ultrasound within 30 days of the ablation procedure. The primary outcome was DVT at 7- and 30-days identified by ICD-9 and ICD-10 codes. Multivariable regression was used to evaluate the patient and procedural variables associated with a DVT at 30-days expressed as odds ratios with a 95% confidence interval (OR 95%CI). Patients and procedures with a previous DVT diagnosis were excluded.
The authors concluded that the incidence of newly diagnosed DVT within 30-days of an ablation procedure was 3.2%. The risk for DVT decreased in recent years and LA was associated with an 18% decreased risk compared to RFA.
For further reference, click on the link