Ultrasound classification of thyroid nodules : Role of TI-RADS
Thyroid Imaging, Reporting and Data System, or TI-RADS, is formulated after the American College of Radiology's BI-RADS, a widely accepted risk stratification system for breast lesions which has been further modified by ACR( American College of Radiology) in 2017. However, the former has not gained equal popularity in usage among radiologists. Even when classified on ultrasound, most thyroid nodules are subjected to invasive histopathological examination.
The American College of Radiology TI-RADS has five different categories for nodule appearance -- composition, echogenicity, shape, margins and echogenic foci.The point total determines the nodule's ACR TI-RADS level, which ranges from TR1, benign, to TR5, high suspicion of malignancy. Vascularity and elastography scoring are not given importance in classification.




TI-RADS follow-up recommendations




Category


Follow-up recommendations




TR1: Benign


No FNA biopsy




TR2: Not suspicious for malignancy


No FNA biopsy




TR3: Mildly suspicious for malignancy


FNA biopsy if nodule ≥ 2.5 cm; follow if ≥ 1.5 cm




TR4: Moderately suspicious for malignancy


FNA biopsy if nodule ≥ 1.5 cm; follow if ≥ 1 cm




TR5: Highly suspicious for malignancy


FNA biopsy if nodule ≥ 1 cm; follow if ≥ 0.5 cm




CAD method based on textural and morphological features is capable of distinguishing between hot from cold nodules using routine ultrasound. According to a recent study (2018) published in AJR a ''Web-Based Tool for Standardized Reporting of Thyroid Ultrasound Studies'' could be useful in characterization,and follow-up of thyroid nodules.
In our Indian scenario however, we face limitation of resources and time. It is thus not always possible to grade every thyroid nodule when multiple different types are encountered. Thus in my experience and as per literature, few basic features could aid in enabling us to handpick the ones which need further sampling or just follow up.
Hypoechoic nodules regardless of size must be viewed with suspicion whereas small hyperechoic nodules are usually benign. Irregular, infiltrative margins, microcalcifications, extrathyroid extension and rapid increase in interval size are highly suspicious signs. Isoechoic nodules with cystic areas within them are usually harmless.

Right lobe of thyroid in a young female shows hyperechoic nodule with hypoechoic peripheral halo and vascularity within it- benign features on ultrasound and proven same on FNAC.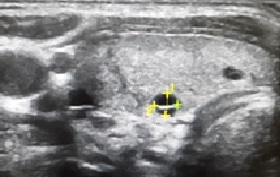 Image: Another benign cystic nodule in the above patient.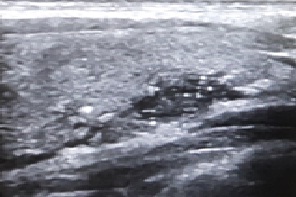 Left lobe of thyroid in same patient shows hypoechoic nodule with scattered punctate calcifications within it and in surrounding thyroid gland- FNAC was advised in view of suspicious morphology which revealed papillary carcinoma.
References:


Samuel A. Stewart, MuraliRajaraman, and Andreu F. Costa.Web-Based Tool for Standardized Reporting of Thyroid Ultrasound Studies,American Journal of Roentgenology, January 2018, Vol. 210, No. 1: pp. 39-42


http://www.uab.edu/news/research/item/8429-uab-led-blue-ribbon-committee-creates-ultrasound-scoring-system-for-thyroid-nodules-to-reduce-unnecessary-biopsies


Dr. Niharika Prasad,
The author is MD (Radiodiagnosis) and is Senior Resident, Dept of Radiology in All India Institute of Medical Sciences, AIIMS Patna. She is a member Editorial Board, Radiology at Specialty Medical Dialogues.