Ultrasound - A better tool than X-ray for diagnosing long-bone fracture : Study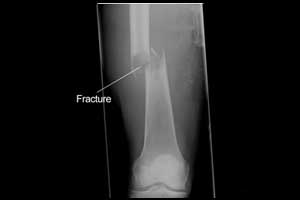 Emergency medicine (EM) resident physicians' are able to identify long-bone fracture better with ultrasound than with plain radiography (X-Ray), according to a new study published in the journal Journal of Emergencies, Trauma, and Shock.
Amit Bahl, Department of Emergency Medicine, Beaumont Hospital, Royal Oak, MN, USA, and colleagues conducted the study to compare the ability of EM resident physicians' to identify long-bone fractures using ultrasound versus plain radiography (X-ray).
Ultrasound is a frequently used imaging modality in the emergency department (ED). It has advantages of being a rapid, cost-effective, noninvasive technique that does not use ionizing radiation. US has many applications in the ED setting, including intra-abdominal, cardiopulmonary, various soft-tissue applications and as a procedural adjunct. In spite of literature describing ultrasound as a diagnostic modality used for the assessment of bony injuries for over two decades, its point-of-care is still variably employed in the evaluation of extremity trauma.
This was an IRB-approved, randomized prospective study that included 40 EM residents at a single site. Fractures were mechanically induced in five chicken legs, and five legs were left unfractured. Chicken legs were imaged by both modalities. Participants were given 2 min to view each of the images. Participants were randomized to either ultrasound or X-ray interpretation first and randomized to viewing order within each arm. Participants documented the presence or absence of fracture and location and type of fracture when pertinent. Mean proportions and standard deviations (SDs) were analyzed using paired t-test and linear models.
Thirty-one participants were male, and 19 were randomized to ultrasound first. Residents completed a mean of 185 (SD 95.8) US scans before the study in a variety of applications.
Based on the study, the investigators found that accurate fracture identification had a higher mean proportion in the US arm than the X-ray arm, 0.89 (SD 0.11) versus 0.75 (SD 0.11), respectively (P < 0.001). There was no statistically significant difference in ultrasound arm and X-ray arm for endpoints of fracture location and type.
"EM residents were better able to identify fractures using ultrasound compared to X-ray, especially as the level of US and ED experience increased. These results encourage the use of US for the assessment of isolated extremity injury, particularly when the injury is diaphyseal," concluded the authors.
How to cite this URL:
Bahl A, Bagan M, Joseph S, Brackney A. Comparison of ultrasound and plain radiography for the detection of long-bone fractures. J Emerg Trauma Shock [serial online] 2018 [cited 2018 Jul 9];11:115-8. Available from: http://www.onlinejets.org/text.asp?2018/11/2/115/233414
Source : With inputs from JETS