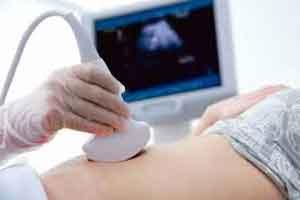 In a Spanish retrospective cohort study published in Obstet Gynecol, it has been suggested that ultrasonography-based expectant management can be safe.
Benign ovarian teratomas (dermoids) are common, typically occur prior to menopause, and are often diagnosed incidentally. Historically, most dermoids were surgically removed; now, expectant management is increasingly frequent.
Dr. Pascual and associates in this retrospective cohort study at a single Spanish hospital from 2003 through 2013,  followed asymptomatic women with sonographically diagnosed benign ovarian dermoids. All ultrasounds were interpreted by physicians with >15 years' experience focused on gynecologic ultrasonography. Among 613 women with dermoid diagnoses, surgery was performed within 4 weeks in 205; the remaining 408 (mean age, 37; range, 14–81; 11% postmenopausal) were followed expectantly with follow-up scans at 3 and 6 months and annually thereafter.
Among the expectantly managed women, 130 ultimately underwent surgery (86% of these within 5 years); pathologic review confirmed dermoids in 79% (including two cases of struma ovarii), serous cysts in 5%, endometriomas in 3%, serous borderline cysts in 2%, and other benign pathology in the remainder. Ovarian torsion occurred in one woman. The vast majority of women remained asymptomatic during follow-up.
The researcher concluded that expectant management might be a reasonable option for managing asymptomatic women who receive a ultrasonographic diagnosis of a benign ovarian teratoma. The risk of undergoing surgery for this lesion decreases significantly after 5 years to follow-up. With careful observation, the risk of missing a diagnosis of malignancy is low.
It is well known that surgery to remove benign ovarian masses can cause pelvic adhesions and compromise fertility. Accordingly, data demonstrating the safety of expectant management of women with asymptomatic ovarian dermoids is welcome. It will be worthwhile if the diagnosis is made by a physician proficient  in gynecologic ultrasound.
For further reference log on to :
Pascual MA et al. Long-term results for expectant management of ultrasonographically diagnosed benign ovarian teratomas. Obstet Gynecol 2017 Nov 3; 130:1244. (http://journals.lww.com/greenjournal/Abstract/publishahead/Long_term_Results_for_Expectant_Management_of.98228.aspx)