UK Chief Medical Officers issue new guidance on Exercise, physical activity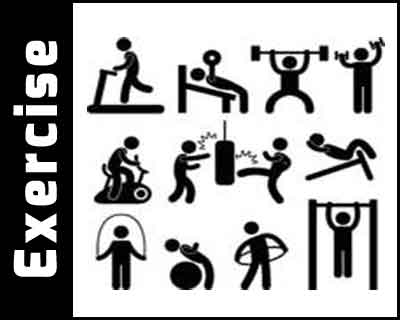 UK Chief Medical Officers have issued guidance on the amount and type of physical activity people should be doing to improve their health. The guidelines emphasise the importance of building strength and balance for adults and include recommendations for pregnant women, new mothers and disabled people. It also focuses on cardiovascular exercise. The new guidelines are an update to those released in 2011, but the overall message remains the same: any activity is better than none, and more is better still.
Under the new guidelines, adults are advised to undertake strength-based exercise at least 2 days a week. This can help delay the natural decline in muscle mass and bone density that starts from around age 50. It is believed that this is a major reason why older people lose their ability to carry out daily tasks.
New evidence is drawn upon to provide updated guidelines across four age groups and for the first time additional guidance is provided for being active during pregnancy and after birth, and for disabled adults. The guidelines present thresholds for the achievement of optimal health benefits, recognising that benefits are achieved both above and below guideline levels.
The evidence base is clear; some physical activity is good, but more is better. The multitude of benefits can start to occur at even the lowest levels of activity, and therefore all individuals should be encouraged to do what they can.
New mothers should undertake a moderate amount of exercise to help them regain strength, ease back pain, and reduce the risk of gestational diabetes, the UK's four chief medical officers have advised.
The recommendation is included in updated physical activity guidelines, which include advice on safe levels of activity for pregnant and postpartum women. The guidelines update the existing 2011 physical activity guidance for all age groups, drawing on the latest evidence available.
Chief Medical Officer for England, Professor Dame Sally Davies, said:





Physical activity is an under-appreciated asset in our clinical arsenal. It is cheap and brings a long list of health benefits.


As we age, our muscles weaken and we can become stiff, leading to falls and difficulty performing everyday activities. Physical activity can prevent fragility and support mobility in old age. By keeping active, both throughout the day and also through hobbies, we can slow muscle and bone decline, ultimately keeping us independent for longer.





Key Recommendations-Early years


All children aged under five should be active every day and participate in a range of activities including outdoor play. The wider range of physical capabilities are considered in three distinct developmental stages: infants (less than 1 year); toddlers (1-2 years); and preschoolers (3-4 years).


Once children are mobile, the evidence supports a guideline level of at least 180 minutes a day for optimal health benefits.


Children and young people


Children and young people should be active every day. The evidence supports a threshold of an average of 60 minutes moderate-to-vigorous activity per day across the week. A variety of types and intensities of activity are recommended including those which develop movement skills, muscular fitness, muscle and bone strength.


Adults


The evidence continues to support optimal health benefits in adults from being physically active every day, working to achieve a minimum of 150 minutes of moderate intensity physical activity, or 75 minutes of vigorous intensity physical activity per week.


New evidence supports the health benefits of high intensity interval training activities (HIIT), which are, for the first time included in the guidelines. Furthermore, the guidelines underline the importance of including strength-based activities on at least two days of the week.


Women are encouraged to also achieve 150 minutes of physical activity per week, continuing with usual activity if already active or safely increasing activity if currently inactive.


Disabled adults are encouraged to achieve 150 minutes of moderate-intensity activity per week, including strength and balance activities on at least 2 days per week.


Older adults


The importance of regular strength, flexibility and balance activity becomes even more important with age, helping to maintain physical function, reduce the risk of falls and delay the decline in muscle mass.


Guidelines recommend daily activity and 150 weekly minutes of moderate-intensity activity for optimal health gains.


However, the benefits of even light-intensity activity are recognised and activities to improve strength, balance and flexibility are recommended on at least two days of the week. It is emphasised that these sessions can be incorporated into other types of activities, rather than necessarily being in addition.


Sedentary behaviour


Despite notable developments in the evidence base for the harmful effects of sedentary behaviour there is not yet enough evidence to set a threshold level. Instead the UK CMO guidelines emphasise the importance of minimising time spent sedentary for all age groups.


For further reference log on to :
doi:
https://doi.org/10.1136/bmj.l5470