Type 2 diabetes: New oral drug on the horizon!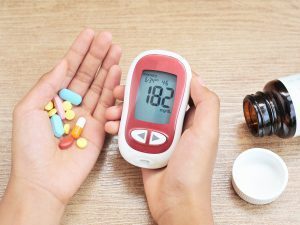 Imeglimin could be a new treatment option for patients with type 2 diabetes either as mono-or add-on therapy, reveal results from a phase 3 study. According to the study, the novel investigational first-in-class Poxel Pharma's drug was found to have a good safety and tolerability profile.
Imeglimin is the first orally-available anti-diabetes candidate that simultaneously targets all three key organs of diabetes: the pancreas, the liver and the muscles. The drug targets the two main defects seen in patients with type 2 diabetes. In muscles and liver, it decreases the excess glucose production by the liver while increasing the effectiveness of insulin sensitivity or insulin in the muscles; and pancreas by increasing the secretion of insulin in a glucose-dependent manner.
Findings from the Trials of Imeglimin for Efficacy and Safety (TIMES) clinical development program were presented at the European Association for the Study of Diabetes (EASD) 2019 Annual Meeting.
The findings were presented by Julie Dubourg, Poxel's medical director of clinical development.
Also Read: Risk of developing type 2 diabetes increases six-fold with Obesity, finds study
In earlier phase 2 and phase 3 trials, imeglimin demonstrated very robust efficacy in patients with type 2 diabetes.
According to Poxel's press release, Imeglimin is being developed as an oral formulation with key advantages over the standard of care. Imeglimin has the potential to enable early treatment use as a monotherapy and as a combination treatment:


As monotherapy for patients that cannot take Metformin


As an oral combination therapy used in 2-drug or 3-drug combinations


Imeglimin has the potential to delay injectable treatments


The TIMES program included 3 individual randomized, double-blind, placebo-controlled trials that involved more than 1100 patients at 29 sites in Japan.
TIMES 1, a 6-month monotherapy efficacy trial, TIMES 2, a 1-year safety trial with imeglimin as mono- and add-on therapy, and TIMES 3, a 16-week efficacy trial of imeglimin added to insulin, followed by a 36-week safety extension period.
Patients had had type 2 diabetes for more than 3 months, were aged 20 years or older, were managed with diet and exercise, with or without one oral agent, and had a baseline HbA1c of 7-10%. Rescue therapy could be given after week 4 if necessary. A total of 213 participants were randomized and 205 completed the trial (103 were randomized to imeglimin and 102 to placebo).
Also Read: PCSK9 inhibitor Alirocumab effectively reduces high LDL-C in Type 2 Diabetes patients
Key findings include:



The primary endpoint, change from baseline in HbA

1c

at week 24, was significantly greater with imeglimin compared to placebo

consistent with results seen in a phase 2 trial that was pivotal in selecting the 1000-mg dose of imeglimin for the phase 3 trials.



Fasting plasma glucose also dropped significantly at 24 weeks by an average of 19 mg/dL (P

< .0001), also similar to phase 2 results.



Proportions of patients achieving an HbA1c

< 7% were 35.8% (from baseline of 7.99%) in the imeglimin group versus just 7.5% (from a baseline of 7.93%) with placebo.




No patient in the imeglimin group required rescue therapy, whereas 5.7% of the placebo group did.



Results were consistent across age groups, above and below 65 years of age

, and across chronic kidney disease stages 1, 2, and 3.



Overall adverse event rates were similar (44.3% vs 44.9% for imeglimin and placebo, respectively).


Gastrointestinal disorders occurred in 11.3% of patients with imeglimin versus 8.4% with placebo.


There were no severe hypoglycemic events in either group.


Adverse events leading to study discontinuation were less common with imeglimin than placebo (2.8% vs 5.6%).


Serious adverse events were more common with imeglimin (3.8% vs 0.9%). No deaths occurred.


TIMES 2 and TIMES 3 results are expected around the end of 2019.
Poxel expects to submit a New Drug Application for imeglimin in Japan by the end of 2020. Phase 3 trials will also be conducted in the United States and Europe.