................................ Advertisement ................................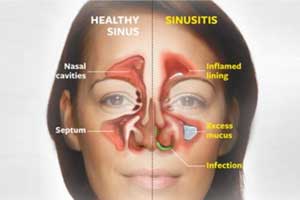 Chronic sinusitis is a common condition that occurs when the sinuses are swollen for more than three months. Seasonal changes lead to high pollen levels which along with the change in weather and temperatures aggravates sinus symptoms. Justin Turner, MD, PhD, associate professor of Otolaryngology-Head and Neck Surgery and colleagues conducted a study to find relationship of mucus with the type of chronic sinusitis in patients. The researchers found that patient's mucus may predict the type of his or her chronic sinusitis, which could help doctors determine whether surgery or medical treatments can produce the best outcomes. According to the study's lead author,  it is the first study to use biological markers to identify endotypes of chronic sinusitis in a North American population. The study has been published in Journal of Allergy and Clinical Immunology.
The study collected and analyzed the mucus of patients using a minimally invasive method — simply putting a small medical grade sponge into the nostrils. The mucus is analyzed for cytokines, small secreted proteins that allow cells to talk to each other. The cytokine profiles were found to determine six different clusters of chronic sinusitis patients.
"When we look at the postoperative outcomes for those patients, which we assess through a quality of life measure that assesses patient symptom burden, we find that at one year follow up, patients in certain clusters do much better than patients in other clusters," Turner said.
................................ Advertisement ................................
"In theory, going forward, this is something that could be used in a point-of-care fashion before making a decision to take a patient to surgery. Perhaps some patients may do better with continued medical therapy, or with biologic medications."
................................ Advertisement ................................
Turner said the findings may pave the way for personalized medicine for chronic sinusitis patients, rather than the type of one-size-fits-all treatment that is the current standard of care. Currently, patients are assessed for how much previous treatment they received and are given prolonged courses of anti-inflammatory medications such as steroids and antibiotics. Only after this are surgical alternatives discussed.
"The problem is that those patients tend to have very different responses to surgery," he said. The idea behind the study is to identify which patients will have better outcomes ahead of time. "Some patients may be better served with surgery, others with medical treatment," he said.
Additional research will further define the clusters of patients with the goal of identifying mechanisms that contribute to the development of chronic sinus disease, Turner said.
"Patients who seem clinically similar and undergo sinus surgery reveal a spectrum of eventual outcomes. The ability to potentially target the subset who will benefit from different treatment options would be a major advancement for precision medicine care," said Ron Eavey, MD, Guy M. Maness Professor and chair of Otolaryngology and director of the Vanderbilt Bill Wilkerson Center. "We are encouraged by Dr. Turner's exceptional work with his insight to utilize a simple diagnostic source — mucus."
Dr Kamal Kant Kohli-MBBS, DTCD- a chest specialist with more than 30 years of practice and a flair for writing clinical articles, Dr Kamal Kant Kohli joined Medical Dialogues as an Editor-in-Chief for the Speciality Medical Dialogues section. Besides writing articles, as an editor, he proofreads and verifies all the medical content published on Medical Dialogues including those coming from journals, studies,medical conferences,guidelines etc.
Before Joining Medical Dialogues, he has served at important positions in the medical industry in India including as the Hony. Secretary of the Delhi Medical Association as well as the chairman of Anti-Quackery Committee in Delhi and worked with other Medical Councils in India. Email: editorial@medicaldialogues.in. Contact no. 011-43720751
To know about our editorial team click here
................................ Advertisement ................................