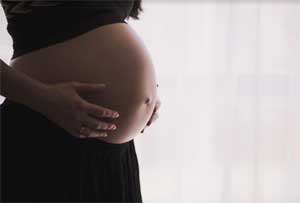 Iran: During the first trimester of gestation, the upper limit for the thyroid-stimulating hormone (TSH) should be redefined to <2.5 mIU/L, according to a recent study published in the journal Clinical Endocrinology. The local upper limit is  4.6 mIU/L, consistent with 4.0 mIU/L cut‐off value recommended by the ATA.
Pregnancy is associated with significant changes in the thyroid gland leading to metabolic and hormonal variations in relation to pregnancy. The reduced TSH levels during, particularly in the first-trimester correlates with an increased human chorionic gonadotropin hormone (hCG).
Thyroid dysfunction is a common complication of pregnancy and can lead to adverse obstetric and neonatal consequences.  Ashraf Aminorroaya, Isfahan University of Medical Sciences, Isfahan, Iran, and colleagues conducted the study to determine the effect of TSH levels on early pregnancy outcome in a prospective population‐based cohort study.
For the purpose, the researchers measure serum TSH, free thyroxine, free triiodothyronine, thyroid peroxidase antibody levels and urinary iodine concentration of 418 pregnant women in their first trimester of pregnancy.
According to the American Thyroid Association (ATA) and the local reference ranges for TSH, women were divided into two groups of0.1‐2.5, >2.5 mIU/L and 0.2‐4.6, >4.6 mIU/L. The risk of spontaneous abortion (SA) was calculated for each group. They found that:
Spontaneous abortion was detected in 7.2% (n = 30) of total 418 pregnancies.
Women with TSH levels > 2.5 mIU/L had an increased risk of SA, compared to women with TSH levels of 0.1‐2.5 mIU/L.
The risk of SA was increased in women with TSH levels > 4.6 mIU/L.
The rate of SA was increased by 78% for every unit increase in the standard deviation of TSH concentration.
The rate of miscarriages in the treated group by levothyroxine was 9.8% (n = 6) compared to 28.6% (n = 8) in the untreated group.
"The clinical implication of this study is that a TSH level higher than 2.5 mIU/L may not be normal during the first trimester of pregnancy. Therefore, pregnancy would benefit if the level of TSH was kept under 2.5 mIU/L in early pregnancy," write the authors.
"Our finding suggests that the upper limit for the TSH normal range should be redefined to <2.5 mIU/L during the first trimester of gestation," they concluded. "We suggest determining the normal reference ranges of TSH for every geographical region according to pregnancy outcomes rather than the use of local reference ranges."
To read the complete study log on to https://doi.org/10.1111/cen.13979