Trochanteric fractures (Extra-capsular fracture neck femur) - Standard Treatment Guidelines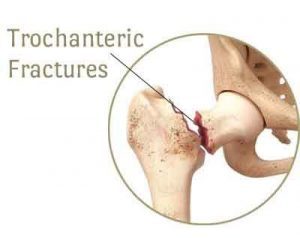 Hip fractures in the elderly are frequent, and their number is increasing fast. The intertrochanteric and the subtrochanteric fractures pose a number of management dilemmas depending on the fractures configuration and status of the bones. A number of different treatment modalities for management of these fractures have been proposed and tried with varying results for both intertrochanteric and subtrochanteric fractures of proximal femur.
Intertrochanteric hip fractures account for approximately half of the hip fractures in the elderly; out of this more than 50% fractures are unstable. Unstable pattern occur more commonly with increased age and with low bone mineral density. The fracture commonly occurs through bone affected by osteoporosis. The presence of osteoporosis in intertrochanteric fractures is important because fixation of the proximal fragment depends entirely on the quality of cancellous bone present, Unstable intertrochanteric fractures are those in which comminution of posteromedial buttress exceeds a simple lesser trochanteric fragment or those with subtrochanteric extension. The results of unstable fractures are less reliable and have a high rate of failure - 8%- 25%.
The goal of treatment of any intertrochanteric fracture in the elderly is to restore mobility safely and efficiently while minimizing the risk of medical complications and technical failure and to restore the patient to preoperative status. Unstable intertrochanteric fractures are technically much more challenging than stable fractures; a stable reduction of an intertrochanteric fracture requires providing medial and posterior cortical contact between the major proximal and distal fragment to resist varus and posterior displacing forces. Hence Surgeons must understand implant options available and should strive to achieve accurate realignment and proper implant placement.
Subtrochanteric fractures occur 'between lesser trochanter and a point 5 cm distally and are seen as independent entities or as an extension of intertrochanteric fractures. The common problem for these fractures has been malunion, delayed union or non-union. Many newer designs of implants bas been designed for fixation of subtrochanteric fractures. The newer implants were designed to avoid bending, breakage of plates and nails, the loosening of screws and inadequate fixation. After the failure of A O angled blade plate many implants were designed like dynamic hip compression screw, dynamic condylar screw, modifications of axial compression screw devices like Medoff's device.
Most of the hip fractures in the elderly results from simple fall from standing. This is mainly because elderly people are unable to dissipate energy as compared to the young person, and diminished ambulatory speed. Their protective responses are also diminished because of slow reaction time, weakness, disorientation and the side effect of medication. Elderly people also lack shock absorbers such as pad of fat or muscles over the trochanteric region and finally diminished bone strength because of osteopaenia allows fractures to occur with trivial fall.
The Ministry of Health and Family Welfare has issued the Standard Treatment Guidelines Critical Care for Trochanteric fractures (Extra-capsular fracture neck femur). Following are the major recommendations:
Management : Primary health centre level :
The doctor on duty should recognise the features of fracture and disloction. Only first aid including the splintage and intravenous drip should be given. In open fractures Tetanus toxoid can be given. There is no need to waste time in preparation of medicolegal formalities. The injured should be referred to the higher centre earliest feasible causing no further harm.
Non Metro Hospital (CHC and Civil Hospital level) :
1. Investigations : X-rays of the pelvis including both hips and knee joint and of other areas if required, General Investigations and specific if required according to the status of the health of the patient.
2. Treatment :
Closed reduction and DHS is the standard modality for most of the Trochanteric fractures. If closed reduction fails open reduction can be done. In unstable Trochanteric fractures Proximal Femoral Nail (PFN), Intramedullary Hip Screw can also be done depending upon the facilities and the expertise of the operating surgeon. Where there is comminution at the site of entry for the DHS, Dynamic Condylar Screw (DCS) may be used.
For subtrochanteric fractures a DCS is the implant of choice after closed or open reduction. Other modalities like PFN, Angled blade plate, Reconstruction nail or Modified Kuntscher's nail may also be used as per the preference of the surgeon.
3. Referral Criteria for Metro hospital
a. Polytrauma patient.
b. Patient with co-morbid conditions requiring multiple speciality care.
c. Patients requiring Joint replacement.
d. Non unions / Neglected fractures ie fractures more than 3 weeks duration.
e. Pathological fractures.
f. Suspected HIV positive cases.
g. Fractures associated with any condition requiring higher investigations like CT Scan, MRI etc
Metro hospital level
1. Investigations: X-rays of the pelvis including both hips and knee and of other areas if required, General Investigations and specific if required according to the presence of any co-morbidity. Special investigations like MRI/CT scan if required.
2. Treatment : All the treatment as in CHC/Civil hospital level along with multidisciplinary approach as required for other co-morbid conditions of the patient. In very osteoporotic patients cement augmentation along with DHS should be done to decrease chances of cut through. In few selected ones with either osteoarthritis of hip joint or in those patients in whom union is suspected we can go for arthroplasty.
Since lots of co-morbidities are common in geriatric population, a thorough preoperative medical evaluation is necessary. The detailed preoperative work up directly affects the timing of surgery and the operative procedure. Majority of these fractures should be treated operatively for ease of nursing care, rapid mobilisation, decreased mortality, decreased hospitalization and restoration of function. The operative treatment should be considered urgently, but not as an emergency procedure.
The optimal time for surgical intervention appears to be after the patient is evaluated medically and any transient medical ailment corrected i.e. electrolyte and fluid imbalance. However it should not be delayed more than 48-72 hours unless intervention significantly decreases the operative risk.
Also most of these patients are osteoporotic and have a high chance of getting fracture in the opposite side, so anti osteoporotic treatment should be started in all of these patients and so is the early mobilization as osteoporosis will increase if they stay in bed waiting for the union to occur.
Resources required for patient and procedure
| | | | | |
| --- | --- | --- | --- | --- |
| Situation | Human Resources | Investigations | Drugs and consumables | Equipment |
| 1. | Doctor, Nurse and other paramedics | None | None except for first aid | No surgical set up |
| 2. | Doctor, Nurse, Physiotherapist and technicians | X-rays, Complete Haemogram, Bleeding time, Clotting time, Complete urine examination for for pre-anaesthetic check up | Plaster of Paris bandages Anaesthetic drugs Thromboprophylaxis | Theatre set up for Surgeries with all Basic equipments C-arm image intensifier |
| 3. | Doctor, Physiotherapist, Nurse, orthotist, Prosthetist, and technicians | As situation 1 CT Scan, MRI | As situation 1 | As situation 1, Surgical Operating Microscope, ICU, and major physiotherapy set up for rehabilitation |
Guidelines by The Ministry of Health and Family Welfare:
Group Head Coordinates of Development Team Dr. P.K. DAVE, Rockland Hospital, New Delhi Dr. P.S. Maini, Fortis Jessa Ram Hospital, New Delhi
Reviewed By :
Dr. V.K. Sharma, Professor Central Instiute of Orthopaedics, Safdarjung Hospital, New Delhi