Triple combo therapy-New hope for Cystic Fibrosis patients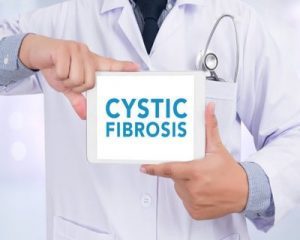 Treatment with triple-combination therapy significantly improved lung function and was well tolerated in patients with cystic fibrosis (CF), according to new studies.
The two studies, published in the journal NEJM showed that treatment with two new CFTR correctors — VX-445 and VX-659 -- each used in combination with CFTR modulators tezacaftor (CFTR corrector) and ivacaftor (CFTR potentiator) significantly improved the amount of mature and functional CFTR proteins in vitro.
The therapy targeted the protein mutation in CF and shows potential to improve the lives of 90% of those affected.
Cystic fibrosis is an autosomal recessive disease affecting about 80,000 people worldwide. It is a multisystem disease that often leads to early death from lung disease. The pathophysiology of CF can be attributed to a protein mutation that leads to the defective function of an anion channel in epithelial cells called the cystic fibrosis transmembrane conductance regulator (CFTR). Among CF patients, 90% are either homozygous or heterozygous for the CFTR mutation leading to poor chloride transport.
The two CFTR modulators -- tezacaftor and ivacaftor -- are currently approved and used in combination for CF treatment. Tezacaftor is a CFTR corrector that moves the mutated CFTR protein to the correct place on the epithelial cell surface membrane, and ivacaftor is a CFTR potentiator that opens the CFTR channel, improving its function.
Now, two groups, one led by Jane C. Davies and another by Dominic Keating, separately evaluated the efficacy of CFTR corrector VX-659 and CFTR potentiator VX-445 respectively in combination with tezacaftor and ivacaftor in CF patients.
Key Findings:


In both the studies, the triple combination significantly improved functional CFTR protein processing, trafficking, and chloride transport to a greater extent than any two of these agents in dual combination.


Both CFTR modulators improved the forced expiratory volume (between 10% and 19%) and sweat chloride concentrations in patients with CF when used in triple combination as compared with standard combination therapy with tezacaftor plus ivacaftor.


Both the modulators had an acceptable safety and side-effect profile.


The potential for triple combination therapy to correct the underlying cause of CF, thereby improving the lives of 90% of children and adults who live with this disease, represents a remarkable achievement and a breakthrough. The ability to manipulate and correct defects such as the CFTR protein at the molecular level is truly the definition of precision medicine.
Dr. Fernando Holguin notes in the accompanying
editorial
: "It is unclear whether the effects on lung function can be sustained for longer periods of treatment or whether these compounds will effectively reduce exacerbation rates and address other meaningful outcomes, such as weight gain." Nevertheless, these results are promising and represent therapeutic gains for the CF community, particularly in heterozygous phe508del/minimal-function patients who previously did not have modulator therapy in their armamentarium.
Source : With inputs from NEJM