Treatment of malaria during pregnancy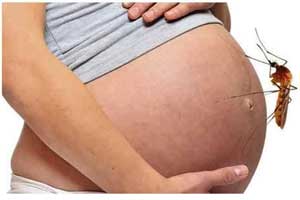 All malaria infections during pregnancy need to be treated as early as possible with safe and effective antimalarial drugs so that there are no harmful effects on the mother and fetus.There has always been a hesitation to include pregnant women in clinical trials due to Concerns about potential for harm of new antimalarial treatments on pregnant women and fetus.As a result there has been scarcity of data for pharmacokinetics, safety, and efficacy of new antimalarials during pregnancy especially in first trimester. In the past 10 years there has been substantial research on malaria in pregnancy by various agencies leading to some clarity about this vital issue.
Treatment of uncomplicated malaria
First trimester


For P falciparum malaria infections during the first trimester, WHO recommends quinine with clindamycin for 7 days (or quinine alone if clindamycin is not available)


In situations of failure or unavailability, an artemisinin-based combination therapy (ACT) or oral artesunate with clindamycin for 7 days.


Malaria caused by Plasmodium species other than P falciparum (non-falciparum malaria) should be treated with chloroquine; quinine is recommended for chloroquine-resistant infections.


Second and third trimester


Any ACTs that are recommended as first-line treatment—namely, artemether–lumefantrine, artesunate–amodiaquine, artesunate–mefloquine, dihydro-artemisinin–piperaquine, or artesunate plus sulfadoxine–pyrimethamine—can be used in pregnancy in Second and third trimester.


Most antimalarial drugs with activity against P falciparum have intrinsic activity against the asexual stages of P vivax, except antifolate drugs Therefore, P vivax malaria can be treated with any ACT that is effective against P falciparum, with the exception of artesunate plus sulfadoxine–pyrimethamine.


Primaquine—which is the only available drug effective against the liver stages of the parasite's life cycle—is contraindicated in pregnant women and during breastfeeding.


Treatment of complicated malaria
Pregnant women have a higher risk of developing severe malaria with complications. This is particularly true in areas with low transmission of malaria, where severe malaria is often complicated by pulmonary oedema and hypoglycaemia. Intensive care and prompt parenteral antimalarial treatment are crucial to the mother's survival. A review on the treatment of severe malaria in all trimesters of pregnancy identified ten studies that reported clinical outcomes. The review supports the WHO recommendation for intravenous artesunate as the drug of choice or, if unavailable, intramuscular artemether.Absorption of artemether is less predictable for intramuscular administration, especially in patients with cardiovascular collapse. Parenteral quinine, although associated with recurrent hypoglycaemia, can be used when artesunate or artemether are not available.
Until controlled clinical trials are conducted, severe malaria that is caused by species other than P falciparum should be managed in the same way as severe P falciparum malaria (ie, in intensive care settings with intravenous artesunate or quinine).
At present there is a pressing need for research to identify quality improvement interventions targeting pregnant women and health providers. In addition, efficient and practical systems for pharmacovigilance are needed to further expand knowledge on the safety of antimalarial drugs, particularly in the first trimester of pregnancy.
For more details click on the link
: DOI:
https://doi.org/10.1016/S1473-3099(18)30065-3
Source : The Lancet