Treatment of Geriatric Depression: Drugs and More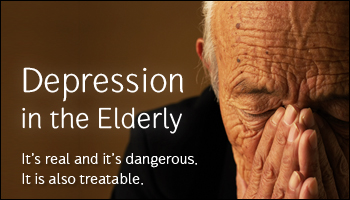 Depression is the most common mental health problem in the elderly and is associated with a significant burden of illness that affects patients, their families, and communities. Awareness of predisposing and precipitating factors can help identify patients. After diagnosis, regular follow-up and active medication management are crucial to maximizing treatment and remission.
Symptoms include low mood; reduced interest, energy, and concentration; poor sleep and poor appetite; and preoccupation with health problems.
Fortunately, depression in the elderly can be treated successfully. However, it is necessary first to identify and diagnose depression, which can be challenging.
Selection of an antidepressant medication should be based on the best side effect profile and the lowest risk of drug-drug interaction. If remission is not achieved, then add-on treatments, including other drugs and psychotherapy, may be considered.
Treatment
When using antidepressant medication to treat the elderly, it is important to be aware that older adults have response rates similar to those of younger adults. Also, antidepressants have similar efficacy when used to treat elderly patients with and without multiple medical comorbidities.
Antidepressants
SSRIs
Selective serotonin reuptake inhibitor (SSRI) is recommended as the first-line therapy. No single SSRI has proven superior. Escitalopram and sertraline tend to have less drug-drug interactions than fluoxetine or citalopram.
Atypical agents
Bupropion
Bupropion can be used for its stimulant properties in those with hypoactive depression, but it may curb appetite, or worsen anxiety. It also lowers the seizure threshold so use caution in alcoholics.
Mirtazapine
Mirtazapine may be more sedating and may stimulate appetite/weight gain. Thus, be careful in patients who are overweight or obese.
Medication initiation
Start low and go slow. "If the patient is not having side effects and if you're not seeing a good effect of the medication, then you really do need to push the dose". Otherwise, you can't call something a "treatment failure". said Dr. Popeo, Geriatric Psychiatrist and Clinical Associate Professor of Psychiatry at NYU Langone Medical Center.
Read Also: Depression closely associated with chronic low Back Pain
According to Dr. Popeo, it normally takes four to six weeks to reach an antidepressant's peak effect, however, it may take eight to twelve weeks if slowly increasing the dose in an older adult. The neurovegetative symptoms like fatigue, poor sleep, and lack of appetite are often the first to improve on therapy.
It is recommended that antidepressant therapy to continue for a minimum of six to twelve months for an initial episode of depression. At that point, tapering off the medication can be attempted, but it carries a 30 percent risk of relapse. If relapse occurs then Dr. Popeo recommends at least two years of antidepressant therapy after recovery. If a patient has the third episode of major depression, then the chance of a fourth episode is about 100 percent so lifelong therapy is warranted.
Treatment to remission
According to the current CCSMH guidelines, if there is no improvement in depressive symptoms after 4 weeks or insufficient improvement in symptoms after 8 weeks on the maximum recommended or tolerated dose of an antidepressant, then the antidepressant should be changed. This may result in a loss of clinical improvement as the patient is weaned off the agent and started on another.
Cross-titrating can be done—weaning the patient off the old antidepressant while introducing the new one—although caution is needed to ensure that there are no interactions between the two antidepressants. For example, if fluoxetine is being discontinued, then a wash-out period of several weeks is recommended because of the drug's long half-life.
Together, these strategies can help promote the safe use of antidepressants in the elderly. Besides medications, other therapies for depression that might be considered include various forms of psychotherapy and neurostimulation, with electroconvulsive therapy still being the gold standard for severe or psychotic depression.
For reference log on to
1.https://thecurbsiders.com/podcast/115-geriatric-depression-diagnosis-antidepressants-and-more
2.https://www.bcmj.org/articles/geriatric-depression-use-antidepressants-elderly
Source : With inputs from BCMJ