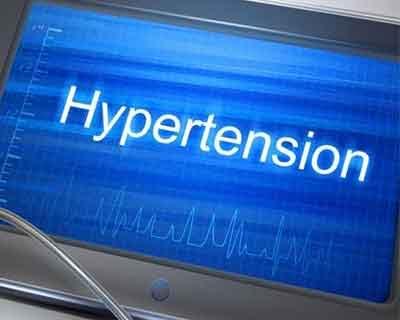 Essential hypertension is hypertension without an identifiable cause. Essential hypertension, also known as primary or idiopathic hypertension, accounts for at least 95% of all cases of hypertension.
 The main goal of treatment is to decrease the risk of mortality and of cardiovascular and renal morbidity.The following recommendations are based on the eighth Joint National Committee (JNC 8) guidelines.
BP goal should be <140/90 mmHg for adults aged 18-59 years, including those with diabetes or chronic kidney disease, and <150/90 mmHg in the general population beginning at age 60 years.
In the general population aged ≥60 years, the eighth Joint National Committee (JNC 8) guideline recommends pharmacological therapy to lower blood pressure when BP ≥150/90 mmHg.
calcium channel blockers (CCBs) classified as dihydropyridine (DHP) and non-dihydropyridine (non-DHP) derivatives are the first-line antihypertensive agents.
There have been several independent  studies on amlodipine a third-generation CCB and cilnidipine a fourth-generation CCB in treatment of hypertension , but no specific studies have been  done for  comparative evaluation of clinical and biochemical parameters of these two drugs. The present  cross-sectional study compared the clinical and biochemical parameters in amlodipine- and cilnidipine-treated patients with essential hypertension.
A total of 140 patients with essential hypertension were randomly assigned to amlodipine group (n=70) and cilnidipine group (n=70). Amlodipine group received 5 mg/day amlodipine and cilnidipine group received 10 mg/day cilnidipine for >6 months. Demographic, clinical, and biochemical parameters were recorded and compared between two groups.
Mean reduction in SBP and DBP was significantly higher in cilnidipine group compared with amlodipine group (P<.001). No significant difference in pulse rate was observed between two groups (P=.359). Cilnidipine group showed shortened QT and QTc interval than the amlodipine group (P<.001). No significant differences in Ejection Fraction (P=.291) and diameter of inferior vena cava (P=.134) were seen between two groups. There was no significant difference in biochemical parameters between two groups.
It was concluded that Amlodipine and Cilnidipine both are equally effective antihypertensive drugs. Cilnidipine treated group showed more reduction in blood pressure than the Amlodipine treated group and there was no significant change in heart rate between the two groups. Cilnidipine group showed comparatively shortened QT/QTc interval than the Amlodipine group.
Read the full article click on the following link : http://jcdr.net/article_fulltext.asp?issn=0973-709x&year=2017&volume=11&issue=5&page=FC01&issn=0973-709x&id=9763