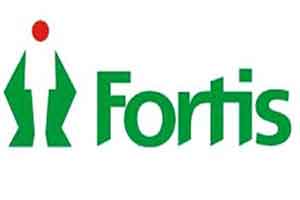 New Delhi:: Latest robotic surgery may work as a boon for patients suffering from early stage oropharyngeal carcinoma (cancer of the mouth, neck and throat).
Fortis Memorial Research Institute (FMRI) piloted a first of its kind study on the oropharyngeal cancer patients
Transoral robotic surgery (TORS) was conducted on 57 patients, under the leadership of Dr Surender Dabas, director, head, neck and thorax surgical oncology, FMRI. This surgical technique is instrumental in healing patients suffering from HPV negative cancers, which are caused mostly due to tobacco consumption.
A study, published in 'Oral Oncology' journal, was conducted between March 2013 to October 2015 on 57 patients suffering from early stage (I&II) oropharyngeal carcinoma, who underwent TORS robotic surgery.
Out of these 57 patients, 48 were males and nine were females, who underwent TORS. When presented, the mean age of the 57 patients was 59.4 years. The most common site of involvement was the base of tongue (BOT) in 31 (54.8 percent) patients. Twenty-four (42.1 percent) patients were stage I and 33 (57.9 percent) were Stage II at presentation. Forty-three (89.6 percent) patients were disease free with an overall survival of 93.8 percent at a mean follow-up of 29 months.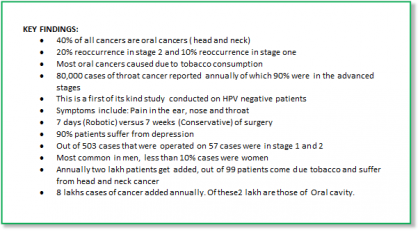 In TORS, the arms of the robot are strategically placed inside the mouth of the patient. The main advantage of TORS is, it allows the surgeon access, via the mouth, those areas that his/her hands probably couldn't reach.
TORS is a relatively new approach to remove cancers from areas in the throat that are difficult to access, including the base of tongue and low down in the bottom of the tonsil. These two areas, along with other parts of the oropharynx (soft palate, posterior oropharynx wall), remain the main tumour sites for which TORS is used.
Speaking at the conference, a cancer survivor, 76-year-old Amalkanti Bhowmik explained how opting for Robotic surgery proved a boon for him.
"I developed difficulty in swallowing food and soon even water in March this year. When my family took me to a doctor, an endoscopy revealed a lesion inside my throat. Subsequently, samples were sent for biopsy which confirmed stage I cancer of the Larynx (voice box). We went to several doctors thereafter to and most gave us the option of radiation followed by surgery, due to my age. However, we knew that the outcome of radiation would have led to further deterioration in my health. It was then that a nephew practicing medicine in UK recommended robotic surgery for my cancer. I have been disease free since my surgery and have been recovering well for my age," he said
Dr Dabas said, "In comparison to HPV negative cancers HPV positive cancers are more responsive to chemotherapy and radiation treatment. In India majority (nearly 70 percent) of all oropharyngeal cancers are HPV negative. This is the reason that TORS is a viable treatment option of HPV negative cancers. In order to avoid the side effects of undergoing a traditional open surgery, if the cancer has been caught at an early stage, TORS is adopted. Posing significant benefits to the patients, it prevents functional impairments to speech and swallowing. It is a fast surgery and precise, intricate and intensive in its execution. The amount of blood loss and the recovery time required post the operation is remarkably minimal. As this method can be implemented without prior chemo therapy, it allows the patient to be free of any toxicity associated with the same."
Dr Simmardeep Singh Gill, zonal director, FMRI said, "This is a first-of-its-kind single institutional prospective study which evaluated the functional outcome and oncological outcome in early stage HPV negative carcinoma. This has been made possible by Dr Surender Dabas, who is one of the few surgeons who has conducted close to 500 robot-aided surgeries for head and neck cancer in India. This kind of surgery has a definite success rate in comparison to other forms of treatment for cancers of neck, throat and head"