Tranexamic acid inhalation effective in mild hemoptysis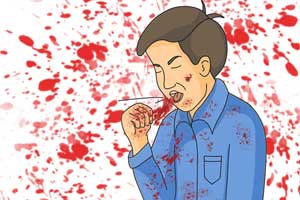 Tranexamic Acid (TA) inhalations can be used safely and effectively to control bleeding in patients with non-massive hemoptysis, reports a new study published in the Chest journal. Tranexamic Acid is an antifibrinolytic drug currently used systemically to control bleeding.
According to the study authors, there are no previous prospective studies showing the effectiveness of inhaled TA for hemoptysis treatment and currently, no medical therapy for it exists.
Read Also: Imaging in hemoptysis patients Latest Guideline by KSTR
The investigators conducted a double-blind, randomized controlled trial of treatment with nebulizing TA (500mg, three times daily) vs. placebo (Normal Saline (NS)) in patients admitted with hemoptysis of various etiologies. Patients with massive blood expectoration (expectorated blood >200ml/24Hrs), hemodynamic or respiratory instability were excluded. Mortality and hemoptysis recurrence rate was assessed at 30 days and following 1 year.
The study included forty-seven patients who were randomized to TA inhalations (n=25) or NS (n=22).
The key study findings included:


TA was associated with a significantly reduced expectorated blood volume starting from the second day of admission.


Hemoptysis resolution within 5 days from admission was observed in more TA treated patients than placebo.


Mean hospital length of stay was shorter for the TA group with fewer patients requiring invasive procedures, such as interventional bronchoscopy or angiographic embolization, to control the bleeding.


No side effects were noted in either group throughout the follow-up period. In addition, a reduced recurrence rate was noted at the 1 year follow up.


Read Also: A case of Allergic bronchopulmonary aspergillosis, ABPA mimicking lung cancer
The study concluded that for patients with nonmassive hemoptysis of various etiologies, inhaled tranexamic acid (TA) was safe and more effective than placebo in this small randomized trial
Hemoptysis is the coughing up of blood or blood-stained mucus from the bronchi, larynx, trachea, or lungs. This can occur with lung cancer, infections such as tuberculosis, bronchitis, or pneumonia, and certain cardiovascular conditions.
For reference log on to s://doi.org/10.1016/j.chest.2018.09.026
Source : With inputs from the journal Chest