Tranexamic acid as good as nasal tampon for stopping nose bleeding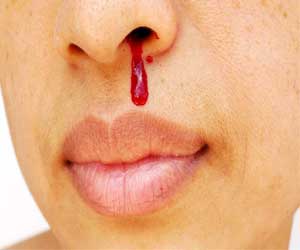 Turkey: Topical tranexamic acid is equally effective as Merocel nasal tampon for controlling nose bleeding (epistaxis), according to a recent study. In addition, the tranexamic acid approach is superior to Merocel in terms of decreasing rebleeding rates.
The study, published in the journal Annals of Emergency Medicine, found that applying external compression after administering tranexamic acid through the nostrils by atomizer stops bleeding as effectively as anterior nasal packing using Merocel.
Sedat Akkan, Department of Emergency Medicine, Kecioren Training and Research Hospital, Ankara, Turkey, and colleagues conducted the study to compare the effectiveness of 3 treatment protocols to stop anterior epistaxis: classic compression, nasal packing, and the local application of tranexamic acid. It also aims to determine the frequency of rebleeding after each of these protocols.
The researchers compared the efficacy of Merocel (a commercially available nasal tampon), atomized tranexamic acid with nasal compression, and atomized 0.9% saline placebo with nasal compression in 135 adults (median age, 60 years) with active spontaneous anterior epistaxis. Exclusion criteria were anticoagulation or bleeding disorder, traumatic epistaxis, altered mental status, and blood pressure <90/60 mm Hg with tachycardia.
Key Findings:


The success rate in the compression with tranexamic acid group was 91.1% (41 of 45 patients); in the nasal packing group, 93.3% (42 of 45 patients); and in the compression with saline solution group, 71.1% (32 of 45 patients).


There was an overall statistically significant difference among the 3 treatment groups but no significant difference in pairwise comparison between the compression with tranexamic acid and nasal packing groups.


In regard to rebleeding within 24 hours, the study found rates of 86.7% in the tranexamic acid group, 74% in the nasal packing group, and 60% in the compression with saline solution group.


"This study suggests that packing can often be avoided altogether by use of atomized tranexamic acid (or simply manual compression)," concluded the authors.
For a detailed study log on to https://doi.org/10.1016/j.annemergmed.2019.03.030
Source : With inputs from Annals of Emergency Medicine