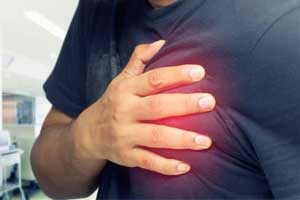 People heavily exposed to toxic metals such as copper, arsenic, lead, and cadmium are more likely to develop coronary heart disease and cardiovascular disease, according to a review and meta-analysis published in The BMJ journal. However, mercury exposure was not associated with cardiovascular risk
Rajiv Chowdhury, principal researcher, University of Cambridge, United Kingdom, and colleagues conducted the study to investigate the association of toxic metal contaminants — arsenic, lead, cadmium, mercury, and copper — with cardiovascular disease. 
"Exposure to environmental metals remains substantial because of widespread soil contamination; the persistence of past uses (house paint and plumbing for lead); continuing industrial uses (plastics and batteries); and presence in tobacco and tobacco smoke, drinking water and ambient air, and dust near industrial sources and waste sites," scientist Maria Tellez-Plaza, writes in an accompanying editorial 
"Cadmium content in fertilizers provides an additional exposure pathway through diet and tobacco since vegetables and grains bioconcentrate cadmium. Emerging tobacco products such as electronic cigarettes also increase metal exposure. The main source of metals in electronic cigarettes seems to be the heating coil, from where metals leach into the inhaled aerosol. In low and middle-income countries, including many countries in Africa and Asia, exposure to high levels of arsenic and lead is still a serious threat to public health that requires urgent action," Tellez-Plaza continues. 
For the study, the research team conducted a systematic review of 37 unique studies comprising 348,259 non-overlapping participants, 13,033 with coronary heart disease, 4,205 with stroke, and 15,274 with cardiovascular disease outcomes in aggregate.
Also Read: Heavy metals in baby teeth linked with autism : NIH study
Key Findings:
The pooled relative risks for arsenic and lead were 1.30 (95 percent confidence interval, 1.04 to 1.63) and 1.43 (1.16 to 1.76), respectively, for cardiovascular disease; 1.23 (1.04 to 1.45) and 1.85 (1.27 to 2.69), respectively, for coronary heart disease; and 1.15 (0.92 to 1.43) and 1.63 (1.14 to 2.34), respectively, for stroke when comparing the top versus the bottom thirds of baseline levels.
For cadmium and copper, the corresponding relative risks were 1.33 (1.09 to 1.64) and 1.81 (1.05 to 3.11); 1.29 (0.98 to 1.71) and 2.22 (1.31 to 3.74); and 1.72 (1.29 to 2.28) and 1.29 (0.77 to 2.17).
There was no correlation for mercury with cardiovascular outcomes.
For arsenic, lead, and cadmium there was a linear dose-response relation with cardiovascular outcomes.
"In communities affected by disproportionate environmental and occupational exposure, surveillance systems should monitor metal biomarkers and cardiovascular disease events and implement cardiovascular disease prevention programs. Since metals are associated with cardiovascular disease even at relatively low levels of exposure, population-wide strategies to minimize exposure can further contribute to overall cardiovascular prevention efforts," concludes Tellez-Plaza. 
"These findings reinforce the importance of environmental toxic metals in cardiovascular risk, beyond the roles of conventional behavioral risk factors," write the study authors.
For further reference follow the link: https://doi.org/10.1136/bmj.k3310