Topical Tranexamic acid is more effective than Nasal Packing for Epistaxis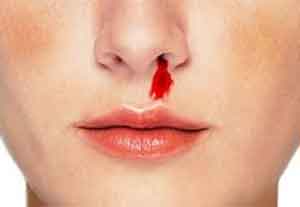 Usually, for management of anterior epistaxis, Anterior Nasal packing is resorted to although it is uncomfortable and has the potential infectious complication.
Dr. Reza Zahed and associates in a randomized parallel group clinical trial evaluated the efficacy of topical application of the injectable form of tranexamic acid (TXA) compared with anterior nasal packing (ANP) for the treatment of epistaxis in patients taking antiplatelet drugs (Aspirin, Clopidegrol or both) who presented to the emergency department (ED ) and found out that topical application of TXA resulted in faster bleeding cessation, less re-bleeding at 1week, shorter ED LOS, and higher patient satisfaction as compared with Anterior Nasal packing.
Tranexamic acid is commonly used in the emergency department (ED) for the treatment of traumatic hemorrhage, and some studies have found that it may be useful for the management of anterior epistaxis as well. However, its effectiveness for epistaxis in patients on antiplatelet agents is unknown, and these patients often receive the standard treatment of anterior nasal packing.
The Researchers performed a randomized parallel group clinical trial in 124 patients on antiplatelet agents to compare tranexamic acid to anterior packing for treatment of epistaxis at two academic EDs in Iran. In the tranexamic acid group, a cotton pad soaked in the injectable form of 10% tranexamic acid was inserted into the affected nostril until the bleeding stopped.
The researchers found that bleeding was stopped in 73% of the patients in the TXAgroup within 10 minutes of treatment as compared with 29% in the ANP group (difference 44%, 95% confidence interval, 26%-57%; p<.001). Additionally, re-bleeding was reported in 5% and 10% of patients during the first 24 hours in the TXA and the ANP groups, respectively. At 1 week, 5% of patients in the TXA group and 21% of patients in the ANP group had experienced recurrent bleeding (p=.007). Patients in the TXA group reported higher satisfaction scores [(median (IQR), 9 (8-9.25)] compared with the anterior nasal packing group [median (IQR), 4 (3-5)] (p<.001). Discharge from the ED in <2 hours was achieved in 97% of patients in the TXA group vs. 13% in the ANP group (p<.001). There were no adverse events reported in either group.
The authors concluded that Tranexamic acid was significantly more effective than anterior packing at stopping epistaxis within 10 minutes (73% vs. 29%). In addition, patients treated with tranexamic acid had a significantly lower rate of rebleeding at 1 week (5% vs. 21%) and the higher rate of discharge within 2 hours (97% vs 13%). Patients treated with tranexamic acid were also more satisfied with treatment.
For further reading log on to :
Zahed R et al. Topical tranexamic acid compared with anterior nasal packing for treatment of epistaxis in patients taking antiplatelet drugs: Randomized controlled trial. Acad Emerg Med 2017 Nov 10; [e-pub]. (http://dx.doi.org/10.1111/acem.13345)