Topical gentamicin-collagen sponge safe, well tolerated in diabetic foot ulcers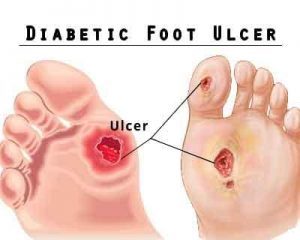 A new study published in the journal BMC Infectious Disease reports that the gentamicin-sponge therapy did not significantly influence overall clinical cure or the eradication of wound pathogens in patients with infected diabetic foot ulcers (DFUIs) but was very well tolerated without attributable adverse events.
Infected diabetic foot ulcers (DFUIs) are responsible for frequent healthcare visits and a potential predictor of amputation. Multivariable analyses indicated DFUIs, compared to other diagnoses, were associated with 6.7 times higher odds of direct emergency referral or hospitalization.
Successful treatment of DFUIs requires multidisciplinary management, including attention to wound care, revascularization, off-loading and metabolic abnormalities, as well as antimicrobial therapy and often surgery.
The researchers conducted a randomized, controlled trial to determine if, for patients with a DFUI, the addition of a topical gentamicin-collagen sponge to systemic antibiotic therapy plus local wound care and surgery as needed, was beneficial. Using a blinded allocation scheme, patients were randomized 1:1 to receive systemic antibiotic therapy and standard ulcer care, with either the daily application of a gentamicin-sponge or no-sponge.
Eligibility criteria for patients to participate in the study included: age ≥18; has been diagnosed with diabetes mellitus; has an open foot wound of ≥1 cm2 located on or below the malleolus that has findings of infection; has undergone any appropriate surgical intervention needed to remove necrotic and to drain an abscess ; and, if female, is nonpregnant and nonlactating.
The primary outcome was to determine the effect of the topical gentamicin-collagen sponge in combination with systemic antibiotic therapy compared to systemic antibiotic therapy alone on clinical outcome in the treatment of a moderate or severe DFUI. Secondary outcomes were to determine the effect of the gentamicin-sponge on the eradication of baseline ulcer pathogens; to assess the safety and tolerability of the gentamicin-sponge; and, to determine the rapidity of wound healing over time.
Read ALso: New device for treatment of diabetic foot ulcers
Key study findings:


Among the 88 DFUI episodes, 64 (64/88; 73%) were classified as a clinical cure, 13 (15%) as an improvement.


Seven cases (8%) were classified as stagnation and 4 (5%) as worsening - each of which was clinically attributed to worsening ischemia during the weeks the patient was in the study.


There was no significant difference in the combined clinical cure and improvement between those treated with or without the gentamicin-collagen sponge (31/43 [88%] and 39/45 [87%], respectively).


Microbiological assessment demonstrated that in 46 (52%) episodes there was total eradication of all pathogens at the test-of-cure visit.


There was no significant difference in the rate of pathogen eradication in patients treated with or without the gentamicin-collagen sponges (20/45 and 26/43, respectively.


The study concluded that the findings showed gentamicin-collagen sponge arm did not prove to be superior to the control arm (no gentamicin-collagen sponge).
For reference log on to https://doi.org/10.1186/s12879-018-3253-z
Source : With inputs from the journal BMC Infectious Disease