Tongue-tie surgery for improving breastfeeding not always needed: JAMA Study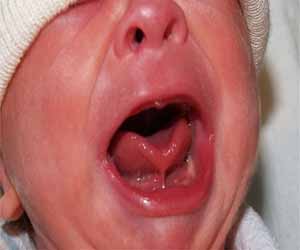 Boston, Massachusetts: A recent study has questioned the need for tongue-tie and lip tether surgery (also called frenulectomy) among infants to improve breastfeeding. Too many infants are getting the procedure done despite the limited medical evidence supporting the procedure.
The study published in the journal JAMA Otolaryngology-Head & Neck Surgery found that among 115 infants referred for pediatric ear nose and throat surgeon for surgical intervention for ankyloglossia (tongue-tie), 63% did not require surgery. Also, they were able to successfully breastfeed following a thorough feeding evaluation.
The researchers suggest that implementation of a feeding evaluation program on a wider scale may help infants get rid of unnecessary surgery that might not be beneficial for improving breastfeeding.
Ankyloglossia, or tongue-tie, s a congenital oral anomaly that may restrict the tongue's range of motion. It is caused by wherein a piece of tissue, called the lingual frenulum, connects too tightly from the tongue to the floor of the mouth due to unusually short, thick lingual frenulum. Infants can also experience upper lip ties when a different tissue, the frenulum of the upper lip, is connected to the gum. In some cases, this restriction in movement can result in difficulty with breastfeeding or in rarer cases, may affect dental health or speech later in childhood.
Breastfeeding is recommended by numerous health organizations worldwide as a preferred method of infant feeding for the newborn's growth and development. When there are difficulties breastfeeding, including the baby not latching on, or gaining weight, or when the mother is in pain, many new parents seek a consultation, which may result in surgery to clip the tongue tie, sometimes called a frenotomy, frenectomy, or frenulectomy.
Christopher J. Hartnick, Massachusetts Eye and Ear Infirmary, Boston, Massachusetts, and colleagues conducted the study to determine whether infants referred for frenotomy to treat breastfeeding difficulties should undergo procedures after comprehensive feeding examination, during which the primary cause of feeding issues was identified, and targeted intervention was provided.
For the study, the researchers examined 115 newborns who were referred to the clinic for tongue-tie surgery with a pediatric ENT. A comprehensive feeding evaluation including clinical history, oral exam and observation of breastfeeding was done by a pediatric speech-language pathologist on each mother-newborn pair assigned. They then offered real-time feedback and strategies to address the hypothesized cause of their breastfeeding challenges.
The primary outcome was the percentage of frenotomy procedures following the implementation of a multidisciplinary feeding team evaluation.
Key results of the study:


Included in the study were 115 patients (median age, 34 days [interquartile range, 19-56 days], 68 (59%) were male) referred for the surgical division of the lingual frenum.


Following the development of a program with feeding examination with a pediatric speech and language pathologist, 72 (62.6%) patients subsequently did not undergo surgical procedures.


Although all of the referrals were for lingual frenotomy, 10 (8.7%) underwent labial frenotomy alone and 32 (27.8%) underwent both labial and lingual frenotomy.




"We have seen the number of tongue-tie and upper lip tether release surgeries increase dramatically nationwide without any real strong data to show these are effective for breastfeeding," says Dr Hartnick. "We don't have a crystal ball that can tell us which infants might benefit most from the tongue-tie or upper lip release, but this preliminary study provides concrete evidence that this pathway of a multidisciplinary feeding evaluation is helping prevent babies from getting this procedure."

"The majority of patients referred for ankyloglossia may benefit from alternative intervention strategies following comprehensive feeding evaluation. Close collaboration and formation of multidisciplinary teams are imperative for treating these children," concluded the authors.


To read the complete study log on to doi:10.1001/jamaoto.2019.1696