Tofacitinib effective in resistant cutaneous Sarcoidosis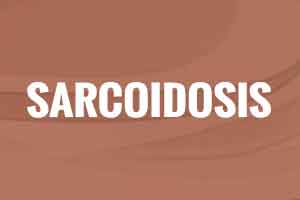 A new study published in NEJM has demonstrated benefits to treating severe cutaneous sarcoidosis using tofacitinib.
Sarcoidosis is an inflammatory disease that is associated with the formation of noncaseating granulomas in one or multiple organ systems. Skin involvement is seen in approximately 25% of patients with sarcoidosis. Systemic glucocorticoids are the initial treatment for sarcoidosis with systemic involvement and may be used for the treatment of cutaneous sarcoidosis.
Researchers from Yale University have found evidence that Janus kinase (JAK)–signal transducer and activator of transcription (STAT) signaling plays a role in the pathogenesis of sarcoidosis.
Read Also: Novel treatment found for disfiguring cutaneous sarcoidosis
The researchers treated a 48-year-old female patient who had refractory cutaneous sarcoidosis with the oral JAK inhibitor tofacitinib, which resulted in clinical and histologic remission of skin lesions.
The investigators also performed molecular characterization of the response using global gene-expression profiling of skin-lesion samples obtained from the patient and analyzed a series of biopsy samples obtained from other patients with cutaneous sarcoidosis.
The woman reported in this case was previously unresponsive to multiple medications and had not received systemic glucocorticoids. The researchers treated her with tofacitinib 10 mg twice-daily.
The investigators found that treatment with tofacitinib (an inhibitor of JAK1 and JAK3) resulted in clinical and histologic remission of cutaneous disease. The withdrawal of treatment resulted in a relapse of disease, cutaneous lesions abated after treatment was restarted, and stable clinical remission of her skin disease was observed with ongoing treatment.
Read Also: Rare Case of Sarcoidosis with only extensive Intramuscular manifestation

"We also found that the transcriptional activity of non–JAK-STAT–dependent pathways that have been implicated in sarcoidosis pathogenesis, including mTORC1 and TNFα, was down-regulated by tofacitinib. Furthermore, levels of additional proinflammatory gene products, including Toll-like receptors, interleukin-1β, interleukin-12, interleukin-18, interleukin-27, CXCL9, and CXCL10, which have previously been shown to be activated in patients with sarcoidosis, were reduced with tofacitinib treatment, "write the authors.
The study concluded that the improvement in both JAK-STAT–dependent and JAK-STAT–independent pathways and transcripts suggests that the dysregulation of JAK-STAT–dependent cytokines (e.g., interferon-γ) is pathogenically involved in cutaneous sarcoidosis and, probably, in sarcoidosis in general.
The authors suggested that the response of cutaneous sarcoidosis to tofacitinib therapy that was observed in the patient needed to be replicated in other patients.
For more information log on to
https://www.nejm.org/doi/full/10.1056/NEJMoa1805958
Source : With inputs from NEJM