To Plate or to Cast in distal radius fracture in elderly ?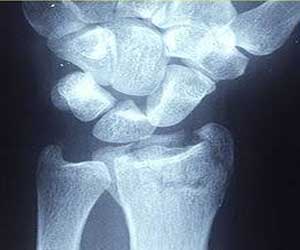 In a Secondary Analysis of the WRIST Randomized Clinical Trial, the researchers have concluded that choice of distal radius fracture treatment method in older patients should be specific to individual goals to minimize complication risks and improve outcomes. The study has been published in JAMA.
Despite decades of experience in DRF management, there is no consensus as to the optimal treatment modality, especially for older individuals. Kevin C. Chung at Section of Plastic Surgery, Department of Surgery, University of Michigan Medical School, Ann Arbor and colleagues conducted a trial to find out whether rates or types of complications after distal radius fractures depend on treatment type.
Distal radius fractures (DRFs) are the second most prevalent fracture in elderly individuals and affect more than 85 000 older Americans each year. Distal radius fractures are associated with substantial increases in health care consumption. Treatment of DRFs can be managed via casting, internal fixation, external fixation, or percutaneous pinning. Casting is noninvasive but malunion or fracture collapse can ensue.
The multicenter Wrist and Radius Injury Surgical Trial (WRIST), enrolled participants which included 304 adults 60 years or older with isolated unstable distal radius fractures. Out of the total, 187 were randomized and 117 opted for casting. The study was conducted at 24 health systems in the United States, Canada, and Singapore. Data for this secondary analysis were collected from April 24, 2012, to February 28, 2018.
In this secondary analysis of a randomized clinical trial of 304 adults from 24 health systems, the method of treatment participants received was associated with the rate or type of complications. Compared with participants who received internal fixation, participants who received any other treatments experienced complications at significantly higher rates.
The researchers found that compared with the internal fixation group, complication rate for any severity complication was higher in participants who initially received casting, whereas the rate for moderate complications was higher in the external fixation group (adjusted rate ratio.
The researchers concluded that the distal radius fracture treatment should be individualistic in the elderly. The decision-making process for older patients should incorporate a complication profile for each treatment type. For example, external fixation and pinning could be used for patients after apprising them of pin site infection risk. Internal fixation can be done in patients with high functional demands who are willing to receive surgery. Internal fixation use should be substantiated owing to the time and cost involved.
For more details click on the link:
doi:10.1001/jamanetworkopen.2018.7053