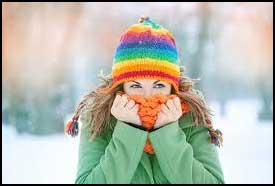 The approaching wnter and with an expectation of temperatures dipping below freezing, one has to be careful about adverse effects the chill and  frost will have on  skin.
Megan Rogge, MD, assistant professor of dermatology at McGovern Medical School at UTHealth, highlights the hazards.
"Although Texas isn't known for its cold climate, people's skin still suffers when it gets cold. Dryness is the biggest problem. Fortunately, you can take steps to both protect against and help relieve, this," Rogge said. "The other issue to watch out for is the sun, which can still be strong and do harm during the winter months, so it's important to take the necessary precautions."
The Department of Dermatology at McGovern Medical School, has come forward to  provide personalized care and advice for conditions such as eczema and dermatitis that can flare up this time of year.
The recommended  Top 7 tips are :
1. Swap your lotions for creams
"When the weather changes, your skin care products should too. For most of us, dry skin makes an appearance in the winter due to changes in temperature and humidity, so you need to think about appropriate skin care formulations," Katta said. "That means choosing thick creams over watery lotions. Lotions are the least moisturizing because they have such a high quantity of water. Creams are a better choice for those with dry skin."
2. Keep your sunblock handy
"Most of us don't think of sunblock as a winter skin staple, but it is a necessity. Even when the temperature drops, the sun's rays can still emit powerful ultraviolet radiation," Rogge said. "If you're close to snow or water, those UV rays can be even more potent due to the reflective surfaces, which makes wearing protection paramount."
3. Soak and smear
"This is a technique that has long been recommended by dermatologists to help lock moisture into your skin. After soaking your skin, you want to smear on your moisturizer," Katta said. "In other words, after you take a shower, you'll step out of the shower, pat dries just a little bit, then apply a moisturizer while your skin is still damp."
4. Step away from that long hot shower
"Many of us love to linger longer in steaming hot showers, particularly when it's cold outside. These feel great, especially when your skin is itchy," Rogge said. "But this can actually damage your skin barrier, and also exacerbate dry, itchy skin. That's why it's recommended to limit showers to 10 minutes, and use lukewarm water instead of hot water."
5. Arm your hands with gloves
"It's very important to maintain an intact and well-functioning skin barrier. But this presents challenges in winter because extremes of temperature can damage the skin barrier, as can harsh winds," Katta said. "An important part of looking after your skin is using the right protective gear. Gloves keep your fingers warm and protect them too."
6. Turn on your humidifier
"Winter dry skin gets worse once you start turning on the heat in your home. That heat starts to dry the air in your home, which in turn starts to dry your skin," Rogge said. "A humidifier in your bedroom when you sleep can really help."
7. Think silk not wool for long underwear
"For women who live in leggings or tights all winter long, the fabric that you choose can make a big difference to your skin. Wool is known to be very irritating, and so are many other fabrics," Katta said. "It's not just the material itself either; the way it's woven can make a difference in how it feels against your skin. Silk leggings are an ideal choice for those with sensitive skin. Cotton leggings, if woven well, are another kinder, as well as cheaper, option."