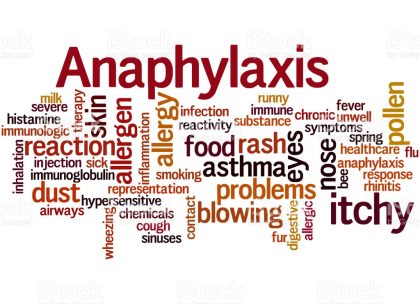 Alpha-gal ( a complex sugar found in red meat from beef, pork, venison, etc.) was the most common known cause of anaphylaxis, according to a study published in the journal Annals of Allergy, Asthma, and Immunology, the scientific publication of the American College of Allergy, Asthma and Immunology (ACAAI).
Debendra Pattanaik and his associates conducted a study to determine whether the etiologies and presentations of anaphylaxis have changed over the last decade in our population.
"Of the 218 cases of anaphylaxis we reviewed, 33 percent were from alpha-gal," says Debendra Pattanaik, MD, lead author of the study. "When we did the same review in 1993, and again in 2006, we had a great many cases where the cause of the anaphylaxis couldn't be identified. That number of unidentified cases dropped from 59 percent in 2006 to 35 percent in this report — probably from the number of identified alpha-gal cases. Our research clearly identified alpha-gal as the cause of anaphylaxis in the majority of cases where the cause was detected. Food allergies were the second leading cause, accounting for 24 percent."
The study informed that alpha-gal allergy was first identified in 2008. Due to increased awareness of red meat allergy, and more diagnostic testing available, alpha-gal allergy was soon identified as the most common cause of anaphylaxis.
Read Also: Cases of unexplained anaphylaxis linked to red meat allergy
An allergy to red meat, including beef, pork, and venison is caused by the bite of the Lone Star tick which is diagnosed with a blood test. Generally, allergic reactions to foods occur rapidly, within 60 minutes of eating the food but in the case of allergic reactions to alpha-gal, symptoms often take several hours to develop. Due to the significant delay between eating red meat and the appearance of an allergic reaction, the food allergen cannot be easily recognized.
"We understand that Tennessee is a state with a big population of Lone Star ticks, and that might have influenced the large number of alpha-gal cases we identified," says allergist Jay Lieberman, MD, vice chair of the ACAAI Food Allergy Committee and a study co-author. "The Lone Star tick is predominantly found in the southeastern United States and we would expect a higher frequency of anaphylaxis cases in this region would be due to alpha-gal. However, the tick can be found in many states outside this region and there are already more cases being reported nationwide."
The remainder of the cases of anaphylaxis in the study were attributed to insect venom (18 percent) exercise (6 percent) systemic mastocystosis (6 percent) medications (4 percent) and other (3 percent).

For more reference log on to http://10.1016/j.anai.2018.07.017