Ticagrelor not entirely safe, linked to major bleeding in ACS patients after PCI: JAMA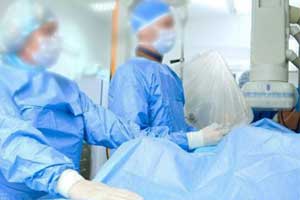 Canada: The use of ticagrelor -- which is recommended over clopidogrel in AHA/ACC guidelines— increases major bleeding and dyspnea in acute coronary syndrome (ACS) patients undergoing percutaneous coronary intervention (PCI), a recent study has suggested. Also, the use of ticagrelor versus clopidogrel was not associated with a statistically significant reduction in MACE (Major adverse cardiovascular events). The findings of the study were published in the journal JAMA Internal Medicine.
The AHA/ACC guidelines currently recommend the use of ticagrelor over clopidogrel for ACS patients based on the randomized clinical trial in which ticagrelor reduced MACE versus clopidogrel but increased dyspnea and bleeding.
Ricky D. Turgeon, Department of Pharmacy, Vancouver General Hospital, Vancouver, British Columbia, Canada, and colleagues compared the risk of MACE with ticagrelor vs clopidogrel in patients with ACS treated with PCI, to compare major bleeding and dyspnea, and to evaluate the association between P2Y12 inhibitor adherence and MACE.
For the purpose, the researchers conducted a prospective study using data from the Alberta Provincial Project for Outcome Assessment in Coronary Heart Disease registry. From the database, investigators pulled data on a cohort of 11,185 individuals who underwent PCI for inclusion. The included participants were older than 18 years, underwent PCI for ACS between April 2012 and March 2016, were discharged alive from index hospitalization, and filled a prescription for ticagrelor or clopidogrel within 31 days of undergoing PCI.
The primary outcome measure was the first occurrence of MACE—which investigates defined as a composite of all-cause death, hospitalization with nonfatal ACS, coronary revascularization outside of planned PCI procedures, or stent thrombosis within 365 days of index hospitalization.
Secondary outcomes of interest included a composite of all-cause death, hospitalization with ACS, or ischemic stroke, hospitalization for major bleeding, and emergency visits for dyspnea. Investigators noted adherence, which was defined as a medication refill adherence of 80% or greater, was also included in analyses.
Read Also: Ticagrelor monotherapy after 1 month of DAPT good enough after multivessel PCI: JACC
Key findings of the study include:


Of 11 185 individuals who underwent PCI, the median (interquartile range) age was 61 (54-71) years, and 2760 (24.7%) were women.


Ticagrelor users (4076 [36.4%]) were generally younger and had fewer cardiac and noncardiac comorbidities than clopidogrel users.


Ticagrelor was not associated with a lower risk of MACE (adjusted hazard ratio [aHR], 0.97); however, it was associated with an increased risk of major bleeding (aHR, 1.51) and dyspnea (aHR, 1.98).


A total of 3328 ticagrelor users (81.6%) were adherent during the study vs 5256 of clopidogrel users (73.9%).


In the full cohort, adherence was associated with a lower MACE risk (aHR, 0.79 for adherence of ≥80% vs <80%).


Differences in other secondary outcomes were not statistically significant.


Sensitivity and subgroup analyses were consistent with primary analyses.


Read Also: Ticagrelor noninferior to Clopidogrel after thrombolysis in under 75 patients with STEMI
"Ticagrelor was not associated with a lower risk of major adverse coronary events in patients with acute coronary syndrome who underwent percutaneous coronary intervention," concluded the authors.
This study, "Association of Ticagrelor vs Clopidogrel With Major Adverse Coronary Events in Patients With Acute Coronary Syndrome Undergoing Percutaneous Coronary Intervention," was published in the journal JAMA Internal Medicine.
Source : With inputs from JAMA Internal Medicine