Thyroid dysfunction may lead to diabetes during pregnancy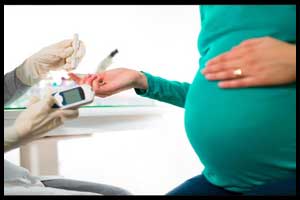 Women having thyroid dysfunction in the first half of pregnancy are at an increased risk for gestational diabetes (a form of diabetes that occurs during pregnancy), suggests a new study published in the Journal of Clinical Endocrinology & Metabolism.
The study was conducted by Cuilin Zhang, a senior investigator at National Institute of Child Health and Human Development (NICHD) in Rockville, Maryland, and colleagues to examine associations of free triiodothyronine (fT3) and fT3:fT4 ratio with gestational diabetes (GDM).
Thyroid dysfunction is common among pregnant women and has been linked to premature birth, miscarriages and adverse health outcomes in children. High thyroid hormone levels during pregnancy are also tied to the development of gestational diabetes and increase the risk of premature delivery and high blood sugar levels in the mother. After birth, the baby may develop hypoglycemia (low blood sugar) which can be very dangerous if not treated correctly.
Triiodothyronine (T3) is the biologically active thyroid hormone involved in glucose metabolism. fT3:fT4 ratio, a marker indicating conversion of free thyroxine (fT4) to free T3 (fT3), is also implicated in glucose homeostasis.
For the study, the researchers assessed the medical records of 107 women with gestational diabetes and 214 other pregnant women from the Fetal Growth Studies-Singleton Cohort, a multiracial pregnancy cohort of 2,802 women. The researchers found higher thyroid hormone levels were an indicator of gestational diabetes risk starting early in pregnancy.
Key Findings:


Both fT3 and fT3:fT4 ratio were positively associated with GDM.


The risk estimates for fT3:fT4 ratio were 8.63 and 13.60 at first and second trimester, respectively.


Neither thyroid stimulation hormone (TSH) nor fT4 was significantly associated with GDM.


Isolated hypothyroxinemia in the second, but not first trimester, was significantly related to increased GDM risk.


"Screening for thyroid dysfunction during pregnancy is still controversial, even though, among non-pregnant individuals, it can lead to earlier detection and treatment of metabolic diseases," said Dr. Zhang. "Our study found that women with thyroid abnormalities in the first half of pregnancy are at an increased risk for gestational diabetes, a common pregnancy complication that can cause short and long-term health problems for women and their children."
"These findings, in combination with previous evidence of thyroid-related adverse pregnancy outcomes, support the benefits of thyroid screening among pregnant women in early to mid-pregnancy," Zhang said.
Based on the study, the authors concluded that higher fT3 levels, potentially resulting from de novo synthesis or increased fT4 to fT3 conversion, may be an indicator of GDM risk starting early in pregnancy.
For further information click on the link:
https://doi.org/10.1210/jc.2017-02442