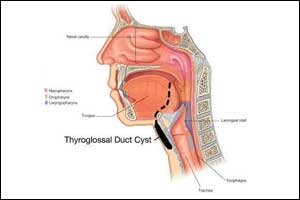 Thyroglossal duct cyst is a rare but occasional cause of a benign midline neck mass.
Ministry of Health and Family Welfare, Government of India has issued the Standard Treatment Guidelines for Thyroglossal Duct Cyst And Fistula. Following are the major recommendations:
Definition :
The cyst is usually located at the midline of the neck. Thyroglossal duct cysts result from the dilatation of a remnant tract at the site where the primitive thyroid descended from its origin at the base of the tongue to its permanent location, low in the neck. Failure of subsequent closure and obliteration of this tract predisposes to thyroglossal cyst formation.
It most often occurs before age 20, but may be found in the older population as well. It is more common in males. The thyroglossal duct cyst may rupture spontaneously and present as a draining sinus, which has been erroneously called a thyroglossal fistula, although communication with foramen caecum (true fistula) is extremely rare.
Incidence in India: Unknown
Differential diagnosis:
Dermoid Cyst
Lipoma
Lymph Node
Minor Salivary Gland Tumour
Sebaceous Cyst
Hypertrophied Pyramidal Lobe
Prevention and Counseling: NA
Optimal Diagnostic Criteria, Investigations, Treatment & Referral Criteria
Clinical Diagnosis:
Diagnosis is usually made clinically. Thyroglossal duct cysts most often present with a palpable asymptomatic midline neck mass at or below the level of the hyoid bone. The neck mass moves with swallowing and on protrusion of tongue. Some patients will have neck or throat pain, or dysphagia (difficulty in swallowing).
Investigations:
1. Fine needle aspiration cytology
2. Ultrasound,thyroid function tests to ensure nomal thyroid gland
3. Radionuclide scanning if normal thyroid not located
Treatment:
Excision (Sistrunks operation). The intimate association of the tract with hyoid bone mandates simultaneous removal of the central portion of the hyoid bone to ensure complete removal of the tract.
Standard Operating Procedure: As In patient the surgery should be performed
Referral Criteria:
depends upon competency of operating surgeon and available resources
Guidelines by The Ministry of Health and Family Welfare :
Dr J M Hans Ex-HOD Dept. of Otorhinolaryngology Dr.RML Hospital New Delhi