Thunder fever - A lethal situation for asthma patients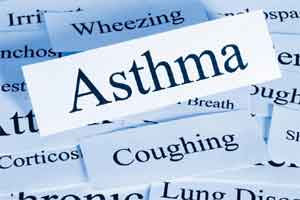 Thunder Fever -- a bizarre term that you might have not heard or read of in any medical or scientific journal, is indeed a very real and at times dangerous phenomenon. Also known as thunderstorm asthma, it is a lethal combination of thunderstorms and a high pollen count combining to form thunder fever. It increases the risk of an asthma attack.
It results from massive amounts of tiny pollen particles generated during thunderstorms that pose a danger to asthma patients and in extreme cases could be fatal.
The term "thunder fever" gained popularity from Melbourne, Australia after nine people died and more than 8000 hospitalized from asthma attacks after thunderstorms tore across the region in 2017.
Some handful of studies have looked into the phenomenon prompted by an observation that the number of doctor's office and emergency room visits for asthma attacks seem to go up during a thunderstorm. The most comprehensive study looking into the phenomenon is a 2008 analysis published in the respiratory medicine journal, Thorax, which examined the thunderstorm and asthma relationship in Atlanta, Georgia.
A review of the literature found that the 2016 outbreak wasn't an isolated incident. There had been 10 reported outbreaks of this infrequent and seasonal occurrence in Australia and 12 additional outbreaks internationally since 1983. International outbreaks had been observed in the United States, the United Kingdom, Italy, Canada, Greece, Iran, and Saudi Arabia.
Cause of Thunder Fever
It wasn't until fairly recently that scientists began to understand what causes thunderstorm asthma. It had been unclear why certain thunderstorm conditions put people with asthma at greater risk for an attack when rain typically helps wash away pollen. It had also been a mystery why areas dominated by ryegrass pollens – large pollen that typically becomes trapped in the nose and sinuses before reaching the lungs – were the areas being affected by these conditions.
In a study published in the Journal of Applied Meteorology and Climatology, the researchers studied the 2016 outbreak in Australia to answer the above questions. They found that a specific airflow pattern was the culprit. Downdrafts of cold air concentrate pollen and mold spore particles before sweeping them into the high humidity of the clouds. They are then broken down into fragments small enough to bypass the nose and sinuses for the lungs. Finally, gusty winds redistribute the highly concentrated particles in the storm area. "A distinct characteristic of the event was the very strong downdraft winds that led to a gust front and the spreading of pollen fragments across the region," the researchers concluded.
Is it a concerning matter for asthma patients?
The most troubling part of this phenomenon, the researchers say, is that these tiny particles can get stuck in people's lungs, which could cause even non-asthmatic people to experience breathing issues. But it's still far more dangerous for people with asthma-related disorders.
A 2013 study reviewing this condition found that for the people having a pollen allergy, the best way to escape from its harmful impact is staying indoors with windows closed. They also found that asthma attacks were far worse for people who were not taking medication for controlling their allergies and asthma. So the best way to keep yourself safe is finding the asthma medication that works for you and if possible staying indoors during a thunderstorm.
Pointers to keep yourself safe during a thunderstorm:


Keep car windows closed and fit a pollen filter


Avoid drying your clothes outside when pollen levels are high. If you do, shake the items before bringing them inside or wearing them


Keep doors and windows closed when at home and overnight. Most pollen is released in the mornings and tends to fall to ground level in the evenings


Wear sunglasses to stop the pollen getting into your eyes


According to the researchers, the most troubling part of this phenomenon is that these tiny particles can get stuck in people's lungs, which could cause even non-asthmatic people to experience breathing issues. But it's still far more dangerous for people with asthma-related disorders. Therefore the bottom line for asthma patients is to observe precautions, as they rightly say that Prevention is better than cure.
Source : Press Release