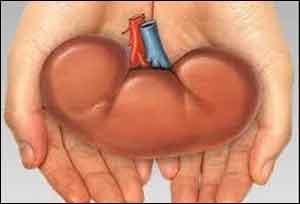 KyleLugo a three-Year-Old Boy is one of the youngest patients to undergo a kidney transplant at Hackensack Meridian   Medical Center, New Jersey, U.S. He had a developmental defect of Kidneys which led to stage four chronic kidney disease. As his kidneys were only functioning about 15 percent and since it is very difficult to dialyze children because of their small size. , the best treatment option is to transplant.
Kyle was born at 37 weeks and needed to be in the neonatal intensive care unit (NICU) for three months after he was born. When Kyle was a year old, he was referred to Kenneth Lieberman, M.D., chief of Pediatric Nephrology at the Joseph M. Sanzari Children's Hospital at Hackensack Meridian Health Hackensack University Medical Center.   While Kyle did not have Down syndrome, he did have a chronic kidney condition.
"Kyle was born with a blockage in his urinary tract," said Dr. Lieberman.  "It's the most common cause of renal disease in infant boys and because his bladder couldn't empty normally, the urine would back up into his kidneys and caused the kidneys to be damaged.  As a result, his kidneys developed scarring and his kidney function continued to deteriorate."
Dr. Lieberman treated Kyle for kidney failure, which included supplemental feedings through a tube in his stomach, special diets and medications.  Over time, Kyle's kidneys continued to deteriorate. The next step was a kidney transplant or dialysis.
There were no potential living transplant donors.  Six months ago, Kyle was placed on a kidney transplant waiting list.  On December 23, Marianny's prayers were answered when she got the call that a kidney was available for her son.
"I could not have been any happier to hear that news," said Marianny.  "To me Dr. Lieberman is an angel. When we got the call that Kyle was getting a kidney, he was here all day with us."
At three-years-old, Kyle Lugo is one of the youngest patients to undergo a kidney transplant at Hackensack University Medical Center.
"Luckily, he never had to undergo dialysis.  He received a kidney offer the weekend of Christmas and I transplanted him Christmas Eve," said Dr. Goldstein. "Everything went better than could possibly be expected.  Kyle received an adolescent kidney and the operation took four hours to complete.  He was discharged four days after the surgery, which is earlier than expected. The kidney worked right away. And Kyle began eating again, which he had not done for some time."
Over the last two years, Kyle has been under the care of several specialists, including those in pediatric nephrology, transplant surgery, pediatric cardiology, pediatric infectious disease, pediatric urology, pediatric feeding specialists, pediatric physical therapy, occupational therapy and orthopedics and speech and language development specialists.
"It's this patient-centric, coordinated team approach to care that makes all the difference in the lives of our patients," said Ihor S. Sawczuk, M.D., president, Hackensack University Medical Center.  "I am so proud of this team for taking such good care of Kyle and seeing him through this difficult time in his life.  It brings me great joy knowing that the hard work of our dedicated team members has changed Kyle's life so greatly and has given his family new hope for the future."
According to Dr. Goldstein, children who suffer from chronic kidney disease don't experience childhood in the way most kids do. "They don't play the same way, they don't grow the same way and they reach their milestones at a much slower rate," said Dr. Goldstein.  "They require medications and catheterizations on a regular basis.  Kyle is the size of the one year old.  The amazing aspect of transplanting them is that they quickly recover back to normal and live normal, healthy lives."
Six weeks after the surgery, Marianny says her son has already had a growth spurt.  His shoe size increased two sizes and his skin tone has changed completely. And, that's not all. "He's now active, all day and full of energy.  He doesn't stop.  And, nothing bothers him. It's amazing how much better he feels now."
"To see a child who I met two years ago, who was in the midst of such great difficulties and we carried him through some really rough times, and now to have normal kidney function is so gratifying," added Dr. Lieberman.  "Now to have this kind of success and to see his future really turn much brighter, there is just nothing like it."
Kyle will remain under follow-up care and will see a doctor weekly for three months. He will then see the doctor on a monthly basis for the next year. In addition, Kyle will likely need some physical and occupational rehabilitation to get him ready for the next big step in his life, pre-school.
"I can't say enough about the transplant team at Hackensack University Medical Center," said Marianny. "They were such a comfort to me during Kyle's surgery. And, I cannot thank Dr. Lieberman and Dr. Goldstein enough for giving my son his life back. I can't wait to see Kyle grow. I just want him to have a normal life. I'm filling out all the paperwork to get him ready to go to pre-school.  This is truly a Christmas miracle."