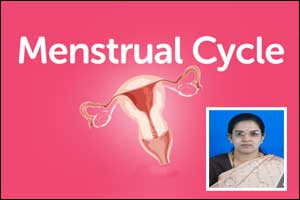 Menstruation and the menstrual cycle are a part of the normal physiology of women. They involve an invisible interaction between various fluctuating hormones, especially, oestrogen and progesterone. The phase-wise physiological changes can be significant enough to alter the perioperative management of a female patient.  Research studies have revealed higher levels of sympathetic activity, heart rates and blood pressures in women in the luteal phase.
Variations in the QTc interval including prolongation in the follicular phase can make the woman prone to cardiac arrhythmias. During the luteal phase, the haemodynamic response to physiological and psychological stress and tracheal intubation has been found to be increased. Several studies have shown lesser pain perception in the follicular phase.
The vocal cord folds are swollen due to water retention in the follicular phase and are dry and thick during ovulation. Decreased sedative and hypnotic drug requirements in the luteal phase owing to reasons like the sedative effect of progesterone is a significant finding of several researchers.
The minimum alveolar concentration of volatile anaesthetics like sevoflurane and the requirement of the induction drug propofol was found to be less in the follicular phase as compared to the luteal phase in some studies.  In the perimenstrual patient, the perioperative period may be marked by a flare-up of systemic diseases like bronchial asthma, migraine, epilepsy, mental disorders, glaucoma, and allergies and also with conditions like catamenial pneumothorax, haemothorax, peripheral and vocal cord oedema and an increased incidence of postoperative nausea and vomiting.
The ovulating female is susceptible to postoperative nausea, vomiting and a flare up of bronchial asthma. The effect of the changes in other body systems on perioperative physiology and outcomes is not very clear. We need to probe further into how the changes in the menstrual cycle can affect perioperative anaesthetic management and outcomes.
For more details click on the link: DOI: 10.4103/ija.IJA_139_18
Dr. Madhuri  Kurdi
The author is MD (Anaesthesiology )and is Professor Karnataka Institute of Medical Sciences, Hubli, Karnataka. She is a member Editorial Board, Anesthesiology at Specialty Medical Dialogues.
The following two tabs change content below.
Anjali Nimesh
Anjali Nimesh Joined Medical Dialogue as Reporter in 2016. she covers all the medical specialty news in different medical categories. She also covers the Medical guidelines, Medical Journals, rare medical surgeries as well as all the updates in medical filed. She is a graduate from Dr. Bhimrao Ambedkar University. She can be contacted at editorial@medicaldialogues.in Contact no. 011-43720751
Latest posts by Anjali Nimesh (see all)
Disclaimer:
The views expressed in the above article are solely those of the author/agency in his/her private capacity and DO NOT represent the views of
Speciality Medical Dialogues
.