The less known fungi of the human eye- LVPEI Study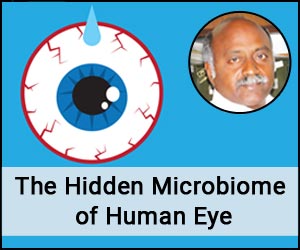 Background
The only time the human eye is sterile, that is devoid of microbes like bacteria, fungi, viruses, and parasites is at the time of birth. But, after birth, several microbes become residents of the surface of the eye and survive as harmless commensal microorganisms. Following an injury, these microbes which are harmless become pathogenic and cause several diseases of the eye. The most predominant of the ocular diseases is Keratitis. In individuals with Keratitis, the ocular surface is inflamed and it is accompanied with pain and could cause blindness. Keratitis is estimated to affect over a million individuals annually and occurs mostly in tropical countries. The causative agents of Keratitis include bacteria, fungi, viruses, and parasites and the common fungi include species of Aspergillus, Fusarium, Candida, Curvularia, Penicillium, Rhizopus etc.
Need for the study
Antifungal drugs are normally used for the treatment of fungal Keratitis based on the identification of fungi by conventional culturing and microscopic methods. These conventional methods are a hindrance and challenge since the sensitivity is low and fungi are detected only in about 12.5 % of the ocular surface samples. In addition, in the majority of the samples, only one fungus was identified. Therefore, there was a need to develop more sensitive methods which would lead to quantitative identification of the causative agent.
Number of subjects involved for this study
Scientists at LVPEI led by Dr S Shivaji ventured into enumerating the ocular surface fungal microbiome (total fungal diversity) of healthy human eyes by using next-generation sequencing (NGS) (see reference below). NGS identifies fungi based on molecular DNA cues without the need to culture the fungi. A total of 34 ocular surface samples collected from the eyes of 17 individuals provided quantitative estimates and identification of several fungal genera.
Key findings
NGS detected fungi in 73 % of samples compared to 12.5 % by the conventional method. Aspergillus was the only genus detected by culture, whereas NGS detected 65 distinct genera and Aspergillus, Setosphaeria, Malassezia, and Haematonectriawere present in all the eyes studied. The study also established that fungal microbiome in the two eyes of an individual was similar, sex had no effect but diversity and abundance was altered by age.
Conclusions
This study, for the first time, explored the ocular surface fungal microbiome of healthy individuals. Such studies provide baseline data on fungi associated with the eye and could also shed light on idiopathic (where the causative agent for the disease is not known) ocular surface disorders and thus contribute to treatment modalities.
The study was published in the journal Investigative Ophthalmology & Visual Science.
The study was jointly contributed by Sisinthy Shivaji Professor Brien Holden Eye Research Centre, L V Prasad Eye Institute Hyderabad, Rajagopalaboopathi Jayasudha, Gumpili Sai Prashanthi, Sama Kalyana Chakravarthy, Savitri Sharma, Jhaveri Microbiology Centre, Brien Holden Eye Research Centre, L. V. Prasad Eye Institute, Hyderabad, India
To know about the study please click on the link
Shivaji S, Jayasudha R, Sai Prashanthi G, Kalyana Chakravarthy S, Sharma S. The human ocular surface
fungal microbiome. Invest Ophthalmol Vis Sci. 2019;60:451–459. https://doi.org/10.1167/iovs.18-26076