Testosterone reverses type 2 diabetes in men with low testosterone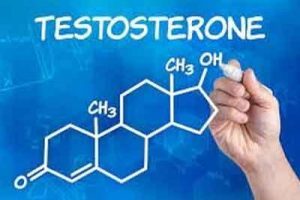 Testosterone therapy in men with low testosterone level having type 2 diabetes (T2D), can improve their disease, reverse its progress, and can also induce significant weight loss, according to the findings of the new research presented at annual meeting of the European Association for the Study of Diabetes (EASD) 2018.
Dr. Farid Saad and his associates conducted a study to determine the effect of long-term testosterone therapy (TTh) on hypogonadal men (those with low testosterone production) who had T2D. Previous clinical studies have shown that TTh can have beneficial effects in hypogonadal men with T2D.
The study participants included 805 men with low testosterone, of whom 311 had T2DM and were divided into two groups; a T-group of 141 men who opted for TTh and were given 1000mg injections of testosterone undecanoate every 12 weeks, and the remaining group of 170 men who did not wish to receive this treatment acted as the control group.
The participants were followed up 1-4 times per year when blood samples were taken and their weight and waist measurements were recorded. Their diabetic state was quantified by measuring fasting blood glucose and glycated hemoglobin (HbA1c); levels of which both rise in diabetic patients due to the body having poor control over blood sugar. Fasting glucose gives a measurement of the current state of blood sugar, while HbA1c acts as a measure of the 3-month average of blood glucose levels.
Read Also: Testosterone replacement therapy slows progression of COPD
Key study findings:


By the end of the 10-year follow-up period, average fasting blood glucose levels decreased in the T-group from 7.7 to 5.3 mmol/L, while in the control group, it rose from 6.3 to 8.2 mmol/L.


Average levels of HbA1c also fell in the T-group from 9.0 to 5.9% and increased in the control patients from 7.8 to 10.6%.


The 61 patients in the T-group who relied on insulin to control their diabetes were able to reduce their dose significantly, falling from an average of 34 to 19.9 units per day.


Members of the untreated control group saw their average insulin dose rise from 30.7 to 42.2 units per day.


The average weight of T-group members reduced from 113.4 to 90.7 kg at the end of the 10-year study period, and their average waist size dropped from 112.6 to 99.6 cm.


Weight and waist circumference of the untreated control group patients remained stable throughout the period of the research and no significant reduction of either was observed.


Patients with diabetes are often given a target HbA1c level as a way of measuring the success of any treatments for their disease, which is typically set at either 6.5 or 7.0%. In the control group, there were no patients who reached either target, while in the T-group 80.1% achieved the 6.5% target, and 90.8% reached the 7.0% HbA1c level by the time of the last measurement. Those who did not reach their targets were men who had been treated with testosterone for the shortest duration.


One of the concerns with testosterone therapy in middle-aged and elderly men is the persistent fear of inducing prostate cancer. However, there is no evidence for this assumption.
"The other concern is an increase in hemoglobin and hematocrit which, however, may be a beneficial effect of testosterone rather than a side effect. Testosterone effectively treats anemia which is not so rare in an elderly population, and anemia itself presents a cardiovascular risk," explains Dr. Saad. "A substantially elevated hematocrit occurred very rarely in this study and was always transient in that it returned to normal with the next measurement. There was not a single heart attack or stroke in the testosterone-treated group, events one may associate with an increase in hematocrit."
The study concluded that long-term testosterone therapy can support diabetes treatment in hypogonadal men with T2D. Its use improved the control of blood glucose, while it deteriorated in patients who had opted not to receive TTh.
Source : With inputs from European Association for the Study of Diabetes