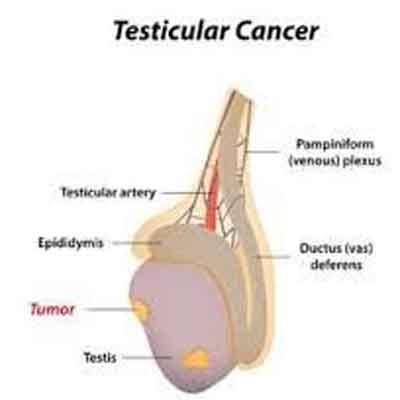 Testicular cancer is the most common cancer in young men and is curable. A newly-published Platinum Study confirms that testicular cancer survivors (TCS) are more likely to develop high BP, high cholesterol, and obesity, which can significantly increase their risk of heart disease. The findings of the study have been published in JNCCN –Journal of the National Comprehensive Cancer Network.
The researchers evaluated 486 testicular cancer survivors, with a median age of 38.1 years, and found they were more likely to have hypertension than their cancer-free peers, (43.2% vs. 30.7%, P<.001), but were less likely to have lower levels of "good cholesterol" (23.7% vs. 34.8%, P<.001), or abdominal obesity (28.2% vs. 40.1%, P<.001). As for other potential heart disease risk factors, testicular cancer survivors were significantly more likely to have higher amounts of low-density lipoprotein (LDL, commonly referred to as "bad cholesterol") (17.7% vs. 9.3%, P<.001), higher overall cholesterol levels (26.3% vs 11.1%, P<.001), and be classified as overweight based on their body mass index (75.1% vs. 69.1%, P=.04).
"The North American population is generally more ethnically and genetically diverse compared to Europeans, making it interesting to examine the similarities and differences in potential genetic risk factors for metabolic syndrome (MetS)," said Mohammad Abu Zaid, MD, Assistant Professor of Medicine, Indiana University School of Medicine and Indiana University Melvin and Bren Simon Cancer Center. For the study, MetS were defined by the standard medical criteria of three or more of the following conditions: hypertension, abdominal obesity, hypertriglyceridemia (elevated triglyceride levels), decreased levels of high-density lipoprotein (HDL, often referred to as "good cholesterol"), and diabetes. "We found that one in ten testicular cancer survivors under age 30 had metabolic syndrome, and that increased to more than a third of patients over age 50. However, some of the genetic changes that reportedly play a large role in increasing the risk of MetS among Europeans were not factors for our patients."
"For testicular cancer survivors, as with most cancer survivors, the medical concerns don't end with remission," explained Timothy Gilligan, MD, MS, Vice Chair for Education & Associate Professor of Medicine, Case Comprehensive Cancer Center/University Hospitals Seidman Cancer Center and Cleveland Clinic Taussig Cancer Institute. Dr. Gilligan Chairs the NCCN Guidelines Panel on Testicular Cancer. "Testicular cancer survivors whose treatment included chemotherapy, radiation therapy, or both have an increased risk of dying from cardiovascular disease. This study provides valuable information as we try to understand why. It also serves as an important reminder for appropriate long-term healthcare after completing cancer treatment, as detailed in the NCCN Guidelines for Survivorship."
"The overarching goal of our study is to implement early interventions in order to reduce the risk of heart disease," said Dr. Abu Zaid. "At this time, there are no criteria for determining what exactly causes metabolic syndrome in cancer survivors. Developing those criteria requires long-term follow up of cancer survivors, which is something we'll be doing as part of this ongoing Platinum Study. This will help us understand which risk factors are more likely to lead to heart disease for this particular population."
The researchers encourage providers to screen and adequately treat testicular cancer survivors for hypertension, dyslipidemia, and hypogonadism, and to advocate for the adoption of healthy lifestyle practices like regular exercise and tobacco avoidance. They also recommend that young testicular cancer survivors discuss the risks and benefits of testosterone replacement therapy with their physicians. Testicular cancer survivors with abnormally low testosterone levels may experience fatigue, low energy, and decreased sexual desire. In addition, they can be at risk for metabolic syndrome, decreased muscle mass, fragile bones (osteoporosis), and potentially heart disease.