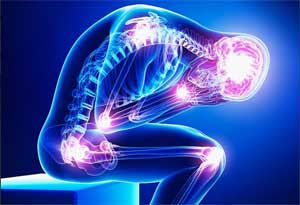 A new study finds that active transcutaneous electrical nerve stimulation (TENS) produced significant improvement in pain, fatigue, and disease impact compared to placebo in patients suffering from fibromyalgia, according to the findings presented at 2018 ACR/ARHP Annual Meeting, held in Chicago.
TENS shows analgesic like properties through activation of endogenous opioid pathways when delivered at low frequency (ie, <10 Hz), and through indirect inhibition of small-diameter afferent fibers in the spinal cord via stimulation of large-diameter afferent fibers (referred to as the gate control theory of pain), when delivered at high frequency (ie, >50 Hz).
Read Also: Pain of fibromyalgia not imaginary,brain scans reveal inflammation
Leslie Crofford and colleagues tested whether using TENS during physical activity would improve activity-induced and resting pain and fatigue and lessen disease impact.
The study included women aged 18-70, meeting ACR 1990 Fibromyalgia criteria with reported pain ≥4 of 10 who were randomly assigned to active TENS (n=103), placebo TENS (n=99) and no TENS treatment (n=99).
Active TENS was applied on the upper and lower back at a mixed frequency, strong but comfortable intensity, 200μsec pulse duration. Placebo TENS was applied in the same manner as active TENS but delivered electrical current for 45s with a ramp to 0 in the last 15s. The no TENS group wore a non-active TENS unit during testing to blind the outcome assessor.
The study participants were advised to use TENS during activity for at least 2h per day. Pain and fatigue during activity (6-minute walk test) and at rest were reported before and during application of TENS on the day of randomization and after one month of home use.
Patient-reported outcomes were assessed with the brief pain inventory (BPI), multidimensional assessment of fatigue (MAF), revised FM impact questionnaire (FIQR), and a global rating of change. Using mixed model analyses
The key study findings included are:
After 1 month of active TENS, the primary outcome of activity-induced pain showed a mean reduction of 1.82 that was significantly greater than placebo TENS and no TENS.
Similarly, activity-induced fatigue showed a mean reduction of 1.53 that was significantly greater than placebo TENS and no TENS.
With active TENS there were also significant improvements in resting pain, BPI interference, and MAF compared to placebo TENS and no TENS.
Active TENS improved the FIQR by a mean of 8.48 which was significantly different from no TENS but not placebo TENS.
The global rating of change indicated that 70% of those in the active TENS group improved compared to 31% in the placebo TENS group and 9% in the no TENS group.
Read Also: Mirtazapine : an effective treatment option for Fibromyalgia
The study concluded that active TENS produced significant improvement in pain, fatigue, and disease impact compared to placebo TENS or no TENS.
"As a safe, inexpensive, home based-treatment, TENS may be included as part of the management strategy for women with fibromyalgia," write the authors.
The following two tabs change content below.
Vinay Singh
Vinay Singh joined Medical Dialogue as Desk Editor in 2018. He covers the medical speciality news in different medical categories including Medical guidelines, updates from Medical Journals and Case Reports. He completed his graduation in Biotechnology from AAIDU and did his MBA from IILM Gurgaon. He can be contacted at editorial@medicaldialogues.in . Contact no. 011-43720751
Latest posts by Vinay Singh (see all)