TAVR- The disruptive cardiovascular advancement entire world is talking about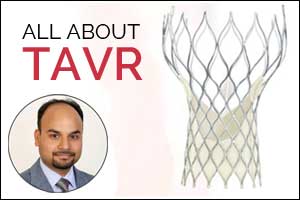 Transcatheter Aortic Valve Replacement (TAVR) or Implantation (TAVI) is a procedure to implant a bioprosthetic heart valve in place of native stenotic Aortic Valve. Patients with Severe Aortic Stenosis (AS) with symptoms should undergo open heart surgery and get their native valve replaced by a man-made mechanical or bioprosthetic valve.
Surgical Aortic valve replacement (SAVR) in such situations is associated with improved long-term survival as well as the quality of life. Ideally, every patient with symptomatic AS should undergo SAVR, but in the real world, about one-third of eligible patients don't get SAVR due to one or the other reason. Most commonly cited reason being 'too-high' surgical risk, either because of age or due to co-morbidities.
In the year 2002, Dr. Alain Cribier demonstrated to the world that stented bioprosthetic valve can be implanted at Aortic Valve position via transcatheter access. This proof of concept was a revolution in valvular heart disease management. The procedure abbreviated as TAVR (or TAVI) was soon widely adopted and modified by many leading institutes of the world. Over the next few years, the world saw a phenomenal evolution in TAVR concept which involved iterative changes in hardware design as well as fine tuning of procedural aspects. The world of high-risk SAVR which involved high peri-operative mortality, followed by a prolonged in-hospital stay and protracted weeks to months of recovery, was condensed to an hour or less of procedure which was far safer, much shorter ICU stay and early hospital discharge. Such patients were also benefited by early ambulation leading to better rehab potential and a marked improvement in both quality as well as quantity of life.
Early Transcatheter Heart Valves (THV) even with its inherent design limitations and relative procedural inexperience, stood the robust scrutiny of high quality randomized controlled trials like PARTNER and CoreValve US Pivotal trial. TAVR was shown to be superior to medical therapy in extreme surgical risk patients, and non-inferior to surgery in high surgical risk patients. Following CE mark and FDA approval in high surgical risk patients, TAVR was subsequently tested in intermediate surgical risk patients in PARTNER 2 and SURTAVI trials. Both the trials demonstrated non-inferiority of TAVR over SAVR. More so, TAVR was associated with reduced risk for peri-operative mortality, stroke, atrial fibrillation, renal failure etc. There were early signals of TAVR being superior to SAVR in patients who underwent the procedure via the trans-femoral route. Few downsides of TAVR included a higher need for pacemaker implantation and small incidence of a para-valvular leak (regurgitation around the implanted valve).
The contemporary THV is third generation iteration with significantly improved design characteristics. Sapien 3 and Evolut Pro are valves, both being CE mark and approved by FDA. The newer design changes can only be imagined to reduce procedural complexities and complications thereby improving clinical outcomes. Sapien 3 was studied against propensity-matched intermediate risk SAVR cohort and was shown to have impressive results. The NOTION trial included early generation THV in all-comers and recently published 5 year follow up data showing non-inferiority of TAVR over SAVR.
Currently, TAVR first is the default approach in most developed countries in patients with symptomatic severe AS who are an intermediate surgical risk, had previous cardiac surgery or sternotomy, or has other condition that would increase surgical morbidity (for example chest wall radiation). TAVR is also preferred over redo SAVR in patients with degenerated surgical Aortic bioprosthesis (Valve-in-Valve, ViV). In countries like Germany, United States etc., the volume of TAVR has taken over SAVR in the last few years. In selected cases, TAVR can be performed under conscious sedation and local anesthesia, without the need for a transesophageal echocardiogram, complete percutaneous access and closure, same day ambulation, and day 3 discharge home. Such patients are able to resume their normal duties within a week of the procedure. Same day TAVR and discharge has been conceptualized in certain centers as well.
Future applications of TAVR are currently being studied in low-surgical risk patients, patients with moderate AS and left ventricular dysfunction, aortic regurgitation etc. Transcatheter Mitral Valve Replacement using Sapien THV is an established procedure in certain niche mitral valvular pathology. Sapien THV has been tried in various cardiac conduits including Pulmonary artery to alleviate regurgitation. It's only fair to say that since the introduction of intracoronary stents in 1986 in United States by Drs. Gianturco and Roubin, TAVR had been the most disruptive invention in the field of Interventional Cardiology. With ongoing attempts to further refine the technology, TAVR will likely become the default choice for all symptomatic severe AS patients.
Some Issues
As with any procedure, TAVR does have certain issues worth mentioning. Since the native valve is not explanted, TAVR can't be offered to patients with an infected Aortic valve. The procedure as such is still unsuitable for pure Aortic Regurgitation. Patients with congenital heart disease, multi-valvular pathology, or other concomitant cardiac pathology are also less suitable for TAVR. All such cases should undergo SAVR. For all low surgical risk patients, as of this writing, SAVR remains the treatment of choice. Longevity of THV bioprosthesis remains unknown.
So far, sub-clinical valve thrombosis cases have been reported but valve degeneration requiring surgery or repeat procedure are rare. Hemodynamic profile if THV is certainly much better than surgically placed valves with single digit final gradients, higher effective valve orifice area, and negligible incidence of patient-prosthesis mismatch. Permanent pacemaker requirement following TAVR implantation have come down, but are still higher than SAVR. While need for pacemaker adds procedural morbidity, these patients do well without any physical limitations. Two unique challenges of TAVR are coronary occlusion and para-valvular leak (PVL). Coronary occlusion is very rare with slightly higher rates in ViV cases. Meticulous procedural planning and distal stent protection can circumvent this rare complication. Mild to moderate PVL are tolerated without any clinical deficits. While severe PVL is indeed associated with higher mortality, its overall incidence has come down dramatically.
TAVR In India
TAVR was introduced in India about 5 years back and since then approximately 300 odd cases have been performed nationwide. Such low level of penetration can be attributed to multiple factors including high cost, scare availability of expertise, and lack of community awareness, among others. Majority of cases used Evolut R THV . As the Indian economy shifts right, so does life expectancy. Such trends are shaping the overall landscape of disease profile among Indians as well. As we continue to tackle communicable diseases, risk profile based non-communicable diseases are becoming more obvious. Diabetes and hypertension is ubiquitous among Indians. Heart disease among Indians come early and come more often. A shift in valvular heart disease can also be seen with increased prevalence of non-rheumatic pathology. A typical cardiologist office is now filled up with patients in their 6th-7th decade, mostly dealing with degenerative diseases. With such changing healthcare landscape, we as providers need to be prepared for what's coming ahead. Degenerative AS is expected to be a major contributor of cardiovascular morbidity and mortality, and TAVR seems to be the future. This train has left the station and is not coming back.
Dr. Anoop Agrawal is an Interventional Cardiologist at CARE Hospitals Banjara Hills, Hyderabad. To read more about TAVR, click Here