Tamil Nadu: Doctors remove 2 kg Thyroid Tumor, largest in the world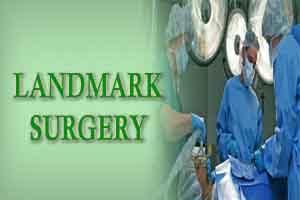 Chennai: In a unique surgery, doctors have removed 2 Kg thyroid tumor from a 72 year-old women's neck. The surgery is one-of-its-kind as the doctors of Rajiv Gandhi Government General Hospital confirm it as the largest known ones in the world weighing more than 1.5 kg with a size of 17 cm X 10 cm.
Dhanakakshmi of Tiruvallur came to the Rajiv Gandhi Government General Hospital with a thyroid tumor weighing 2 kg. When asked about the delay in approaching doctors, she said to the doctors that she first faced the difficulty 20 years ago but ignored it as it was not causing big difficulty. However, the tumor with time grew so long that it started causing problems.
The doctors confirmed to the
The New Indian Express
that the women's tumor was so long that it touched her chest. The women could not move freely and had to lie down most of the time as she faced problems in sitting as well.
Dr P Ragumani, Director of general surgery, stated that "When we examined it through x-ray and other tests, we also found that the tumour was putting excess pressure on the windpipe and her vocal cords, especially her left one was being pressed against as well."
The doctors while diagnosing it as a thyroid cancer, decided to surgically remove it
A doctor from the hospital stated that it was a six hour long difficult surgery, "We were ready for a tracheostomy in case there were any complications, but we managed to do the surgery with no problems," he explained. The doctors said the tumour was one of the largest known ones in the world, weighing more than 1.5 kg with a size of 17 cm X 10 cm. Doctors said that only 137 cases of thyroid swelling more than 10 cm size had been documented in medical literature till now.
Source : With inputs