Tamil Nadu: 3.5 kg fetus removed from infants stomach in rare fetus in fetu surgery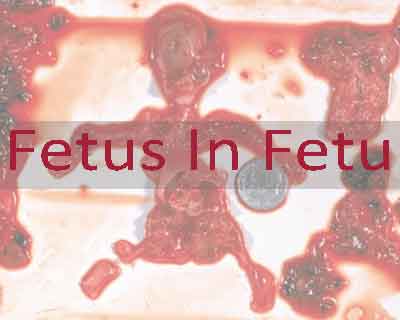 COIMBATORE: Doctors at a private hospital , here gave a one year old child, Nisha a new lease of life by removing a 3.5kg fetus inside her stomach. The child was suffering from a rare case of fetus-in-fetu. Perofrming a surgery, the doctors removed the fetus from the child's abdomen.
Fetus in fetu (or foetus in foetu) is a developmental abnormality in which a mass of tissue resembling a fetus forms inside the body. In this case the malformed fetus, residing in the infants stomach was feeding off her blood supply, nutrition as well as suppressing her organs
As per the doctors at Sri Ganapathy Krishna Hospital, the child always had a slightly larger than normal stomach, but the parents, both daily wage laborers, ignored it. "They might not have gone for their scans regularly or towards the end. So doctors may have missed it," pediatric and laparoscopic surgeon Dr D Vijayagiri told TOI. "It was only after the child began having issues breathing and having food and the stomach had grown to a noticeably abnormal size did they go to a private doctor in Erode."
Due to the complications, the case was referred to the Dr Vijaya giri, who performed surgery, he said, . "I too believed that it was a cyst or tumour till the ultrasound and scan showed that there were bony areas, calcified region and a teratoma-like structure (a tumour containing tissues and organs). That was when I suspected that it was a fetus-in-fetu and quickly looked up some literature."
"However, it was only when I removed the structure, could I confirm that it was a fetus. Though it has some bones, a pathology study is what can reveal the organs formed so far," he added.
Explaining the complications of the case the doctor highlighted that the case was a big challenge as the baby's left kidney was completely attached to the tumour. Other organs like the pancreas, a portion of the spleen and left side of the colon were attached to the fetus and the blood vessels were splayed around the structure.
"Hence, we had to remove and detach the blood vessels and move the organs away from the fetus without injuring them. Once the fetus was removed, we manually placed all the organs in the places where they should have originally been," said Dr D Vijayagiri
The surgery conducted at a private hospital in Mettupalayam. The operation was successful, and the baby is recovering well.