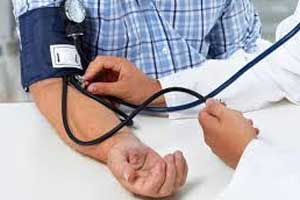 Systolic BP in 130–139 mm Hg range increases mortality risk due to stroke, not a heart attack.
A systolic blood pressure (systolic BP) ranging from 130–139 mmHg increases deaths from stroke, but not from ischaemic heart disease (IHD) i.e heart attack compared with normal blood pressure (BP), demonstrates a recent study published in the BMJ journal Heart.
When the heart beats, it squeezes and pushes blood through the arteries to the rest of the body. This force creates pressure on those blood vessels, and that's called systolic blood pressure. A normal l systolic blood pressure is below 120. A reading of 140 or more indicates high blood pressure also called hypertension.
................................ Advertisement ................................
Mi-Hyang Jung, Cardiovascular Center, Chuncheon Sacred Heart Hospital, Chuncheon, Korea, and colleagues aimed to identify the following in all age groups among individuals without known hypertension and CVD: (1) Whether a systolic blood pressure (Systolic BP) of 130–139 mm Hg elevates cardiovascular disease (CVD) mortality. (2) Whether Systolic BP shows a linear association with cause-specific CVD mortality.
................................ Advertisement ................................
For the purpose, the authors used the Korean National Health Insurance sample data consisting of 429 220 participants. They were categorized into three groups by age (40–59 years, 60–69 years and 70–80 years) and followed for 10.4 years.
Also Read: Systolic blood pressure a useful prognostic indicator before PPCI : Study
They found that:
During 10.4 years of follow-up, 4319 cardiovascular deaths occurred.
A positive and graded association was generally observed between Systolic BP and overall and cause-specific CVD mortality regardless of age, except for IHD mortality in those aged 70–80 years.
Among those aged 70–80 years, the HRs (95% CIs) for overall CVD mortality were 1.08, 1.14 and 1.34 for SBP values of 120–129 mm Hg, 130–139 mm Hg and 140–149 mm Hg, respectively, compared with SBP <120 mm Hg.
For total stroke mortality, the corresponding HRs were 1.29, 1.37 and 1.52, while for IHD mortality, the corresponding HRs were 0.90, 0.86 and 1.29, respectively.
Non-linear associations were significant for IHD.
Also Read: Blood pressure measured at wrist may lead to incorrect diagnosis, finds study
Findings revealed an elevation of total stroke mortality, but not ischemic heart disease (IHD) mortality, due to a systolic blood pressure of 130–139 mmHg vs normal blood pressure in this elderly Korean population. In these subjects, no linear association was identified for IHD mortality in the range of < 140 mmHg.
Medha Baranwal joined Medical Dialogues as an Editor in 2018 for Speciality Medical Dialogues. She covers several medical specialties including Cardiac Sciences, Dentistry, Diabetes and Endo, Diagnostics, ENT, Gastroenterology, Neurosciences, and Radiology. She has completed her Bachelors in Biomedical Sciences from DU and then pursued Masters in Biotechnology from Amity University. She has a working experience of 5 years in the field of medical research writing, scientific writing, content writing, and content management. She can be contacted at medha@medicaldialogues.in. Contact no. 011-43720751
To know about our editorial team click here