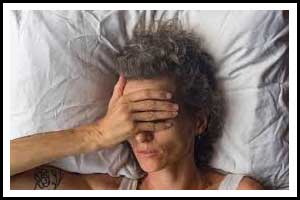 Korea: Menopause can be both physically and psychologically challenging, with insomnia being one of its common symptoms. A new study published in the journal Menopause finds that surgical menopause (SM) leads to increased sleep issues in women compared to natural menopause (NM).
SM is often accompanied by more psychological and physical difficulties. The increased severity of menopause symptoms such as hot flashes and night sweats can disrupt sleep during a time in a woman's life when sleep problems are already an issue; however, only a few quantitative studies have investigated sleep-interfering behavior in postmenopausal women.
Chol Shin, Korea University Ansan Hospital, Institute of Human Genomic Study, Ansan, Korea, and colleagues conducted the first of its kind study to compare sleep quality in women who experience natural versus SM.
In the study, the participants, consisting of 526 postmenopausal women, were asked to complete self-report questionnaires about insomnia symptoms, sleep-interfering behaviors, depression, sleep quality, and gynecological history.
Key Results:
Among the sample, 81.6% (n = 429) reported going through NM and 18.4% (n = 97) reported going through SM. The SM group was significantly younger by 7.2 years.
Women in the SM group reported significantly worse sleep quality, especially for sleep duration and habitual sleep efficiency compared with women in the NM group.
Regression analysis indicated that individuals in the SM group were 2.131 times more likely to have insomnia compared with the NM group.
In addition, women in the SM group who displayed more sleep-interfering behaviors also had a higher severity of insomnia symptoms compared with women who experience NM.
"Early surgical menopause is known to be associated with more severe menopause symptoms," Dr. JoAnn Pinkerton, NAMS executive director, said in a press release. "That's why it is important to assess sleep quality in women after surgery that leads to menopause because insomnia and disrupted sleep can cause fatigue, mood changes, and lower quality of life."
For further reference log on to 10.1097/GME.0000000000001257