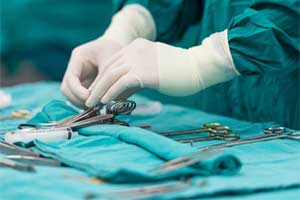 Patients undergoing surgical resection of primary breast tumors confront a risk for metastatic recurrence and resection of a primary tumor can cause previously inapparent metastatic deposits to flare. The researchers at Cambridge, Massachusetts tested whether and how this phenomenon might occur and have found that surgery of any type promoted the growth of tumor cells at secondary locations. The study has been published in Journal Science Translational Medicine.
Patients undergoing surgical resection of primary breast tumors confront a risk for metastatic recurrence that peaks sharply 12 to 18 months after surgery. This phenomenon could be due to tumor cells released into the circulation during surgery or could be the result of existing metastatic outgrowth. In order to distinguish between these possibilities. Dr. Jordan A. Krall et al. used a common wound-healing model in mice harboring breast cancer cells in which there was no surgery to disturb a primary tumor bed.
In a series of experiments in 273 mice that had not developed breast cancer naturally, aggressive mouse breast cancer cells were implanted in various locations (i.e., "pseudo-metastases"). Initially, the tumor cells grew, but then they entered a period of dormancy. This dormancy occurred only in mice with intact immunity, not in immunodeficient mice, which suggests that the immune system contains (but doesn't eliminate) pseudo-metastases. Surgery of any type (not just resection of a primary tumor) led to the aggressive growth of pseudo-metastases in 60% of animals, compared with 10% of control animals that did not undergo surgery. Surgical procedures caused systemic inflammatory responses: Activated monocytes from the marrow traveled to the sites of the pseudo-metastases and became tumor-associated macrophages. These macrophages suppressed the immune system near the tumor, thereby awakening the pseudo-metastases from their dormancy. Treating the animals with nonsteroidal anti-inflammatory drugs before and immediately following surgery greatly attenuated growth of pseudo-metastases.
................................ Advertisement ................................
For further reference log on to:
................................ Advertisement ................................
Krall JA et al. The systemic response to surgery triggers the outgrowth of distant immune-controlled tumors in mouse models of dormancy. Sci Transl Med 2018 Apr 11; 10:3464. (https://doi.org/10.1126/scitranslmed.aan3464)
Dr Kamal Kant Kohli-MBBS, DTCD- a chest specialist with more than 30 years of practice and a flair for writing clinical articles, Dr Kamal Kant Kohli joined Medical Dialogues as an Editor-in-Chief for the Speciality Medical Dialogues section. Besides writing articles, as an editor, he proofreads and verifies all the medical content published on Medical Dialogues including those coming from journals, studies,medical conferences,guidelines etc.
Before Joining Medical Dialogues, he has served at important positions in the medical industry in India including as the Hony. Secretary of the Delhi Medical Association as well as the chairman of Anti-Quackery Committee in Delhi and worked with other Medical Councils in India. Email: editorial@medicaldialogues.in. Contact no. 011-43720751
To know about our editorial team click here